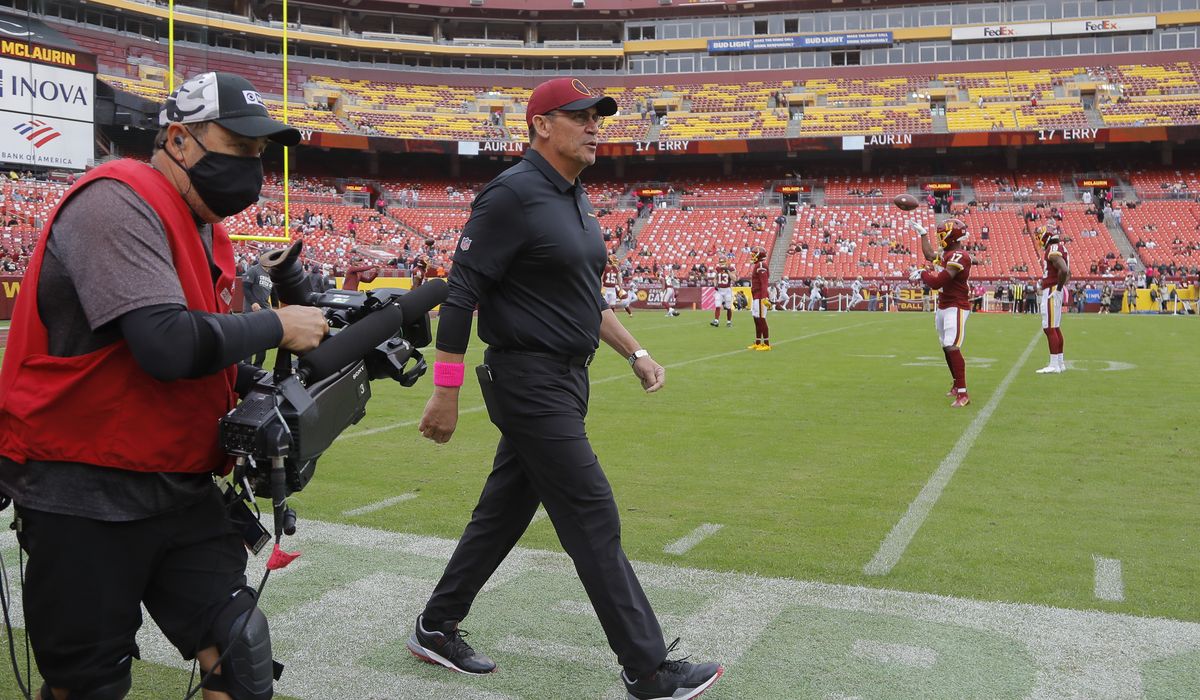 When the news broke that the DEA had raided the Washington Football Team's headquarters in Ashburn in connection to a federal probe involving team trainer Ryan Vermillion, the organization issued a statement that said the trainer was placed on administrative leave "due to an ongoing criminal investigation that is unrelated to the team."
Maybe they could use a variation of that distancing to explain Sunday's 33-22 loss to the New Orleans Saints — something like "the loss to the Saints at FedEx Field is unrelated to the team."
They would love to distance themselves from investigations and football losses and all the failures and embarrassments that have come to define the Dan Snyder ownership, but they seem incapable of doing so.
This was supposed to be coach Ron Rivera's culture change. But Vermillion, one of the first people he brought to Washington from Carolina, now appears to be the subject of a federal investigation connected to the distribution of prescription drugs, according to NBC Sports Washington. And ESPN reported Saturday that assistant trainer Doug Quan has also been put on administrative leave.
Rivera used words like "disappointing" and "frustrated" Sunday while speaking to reporters — not about the DEA probe, but his team's mistake-filled performance on the field in their loss to the Saints.
It's all related to the team, unfortunately.
The culture change is reeling, on the field and off, and they just can't seem to hide from the dysfunctional world that consumes everything in the organization.
Sunday was "Think Pink" breast cancer awareness day, a noble and heartfelt effort, led by co-owner Tanya Snyder, a breast cancer survivor herself. Who was the presenting sponsor? Inova Schar Cancer Institute, named for wealthy businessman and philanthropist Dwight Schar — who was the franchise minority owner that Dan Snyder has accused of running a smear campaign against him in a lawsuit.
The aura of self-destruction. It's everywhere.
The only place most fans care about is on the football field. There is plenty of self-destruction there.
The loss gives Washington a record of 2-3, with Pat Mahomes and the Kansas City Chiefs coming to Ghost Town Field next Sunday, followed by road games against Green Bay and Denver, then the bye week and the return of Tom Brady and the Super Bowl champion Tampa Bay Buccaneers, a rematch of the wild-card game from last season where quarterback Taylor Heinicke made his bones.
That Heinicke was nowhere to be seen Sunday, replaced by the Heinicke who is a former XFL backup quarterback — he went just 20 of 41 passes for 248 yards and two interceptions.
No Heinicke magic this time to save an overhyped and overrated defense.
The Saints rolled up 369 yards of offense — about 100 yards better than their season average — and did so in painful fashion. There was the early first quarter 75-yard touchdown pass from Jameis Winston to a wide-open Deonte Harris to give New Orleans a 7-3 lead.
Then there was the 49-yard "Hail Mary" from Winston to Marquez Callaway, who outjumped a group of clueless flat-footed Washington defenders, with just eight seconds left in the half for a 20-13 lead at halftime.
Those were the big gashes. The rest came in small cuts. Winston wound up with four touchdown passes.
When it was suggested that the team was going in the wrong direction, Rivera answered, "No, it's not a little further away. I still feel good about the guys in the room. I'm not going to quit on those guys."
Then it hit him. He's stuck with them. "They're who we have," Rivera said.
Yes they are, and they were supposed to be better than this.
"I'm very frustrated because we've got too many good football players to not be better than what we are now," Rivera said. "But your record tells everybody what you are. That's what we are — we're a 2-3 football team right now."
They are a 2-3 football team whose two top trainers are on administrative leave as a result of a DEA investigation. They are a 2-3 football team whose biggest public service and charitable event of the season was sponsored by a facility named after the owner's worst enemy.
They are the Washington Football Team.
You can hear Thom Loverro on The Kevin Sheehan Show podcast.