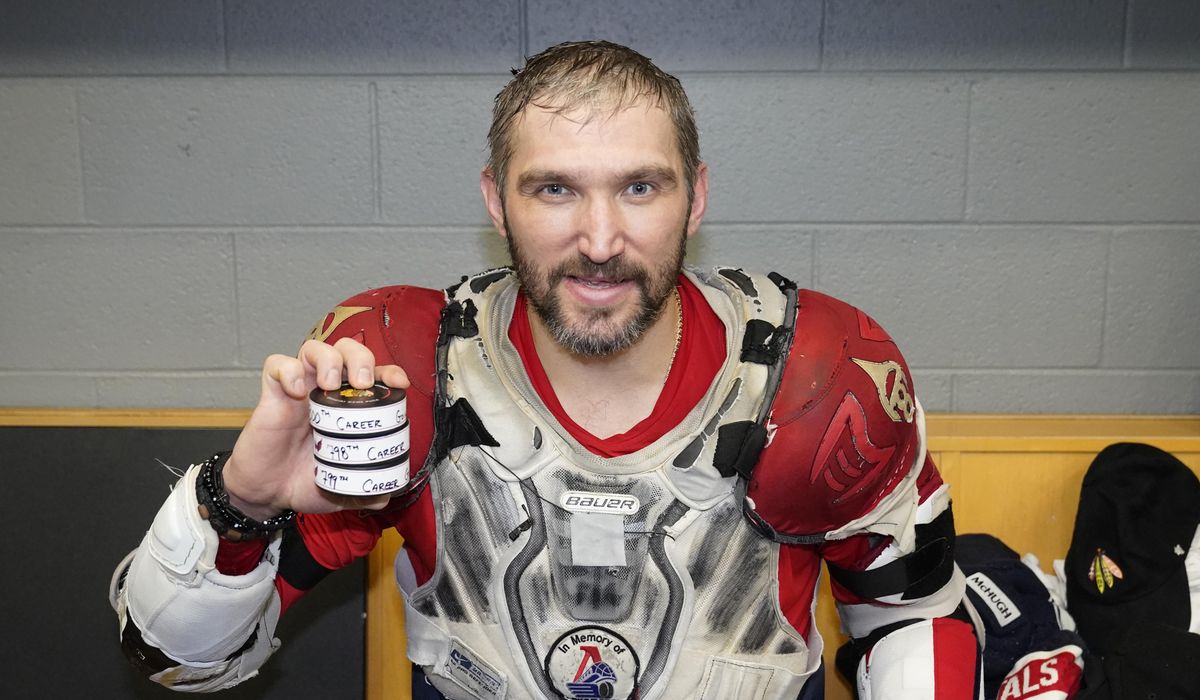 Alex Ovechkin being the greatest athlete in Washington team sports history isn't a declaration, as much as some would like it to be just that.
It's a conversation.
It's a worthy conversation, one that Ovechkin very much is part of, adding another chapter to his legacy this week with his hat trick Tuesday night against the Chicago Blackhawks, reaching 800 career goals.
The Capitals forward continued his skating on rarified ice Thursday night at Capital One Arena against the Dallas Stars, when he tried to pass Gordie Howe and his 801 goals for second place on the all-time scoring list. Once he passes Howe, Ovechin would then trail only the great Wayne Gretzky, who holds the once-seemingly unbreakable NHL record of 894 goals scored — an exorbitant number now likely within his reach.
There is an image of Ovechkin in the visitors' locker room in Chicago holding up the three pucks he put in the Blackhawks' net, his trophy for the night — a remarkable feat at the age of 37, showing little sign of slowing down.
He'll have to make some room for those three pucks in what is a very crowded trophy case: three Hart trophies as NHL MVP; nine Rocket Richard trophies for the league's top scorer; one Stanley Cup title and the Conn Smythe Trophy for the MVP of the 2018 playoffs, plus numerous other honors.
Oh, yes, and a key to the city of Washington.
That's greatness. It's certainly more greatness than we have seen in this town in most of our lifetimes. That would fall under the category of the greatest we've ever seen.
It doesn't mean it's the greatest that's ever been. However it may anger you, there were those who came before you who witnessed Ovechkin-like greatness in this town — those who should be part of that same conversation.
Walter Johnson is considered the greatest pitcher in the history of baseball. And though pitchers are never included in the debates among the greatest players in the history of the game, there is no position with more impact on the outcome of a singular game than the starting pitcher. If you believe that, Johnson, who pitched for the Washington Senators from 1907 to 1927, may have been the greatest player in baseball history.
Johnson won 417 games — the second most in MLB history, behind only Cy Young. He had an astounding career earned-run average of 2.17. Johnson struck out 3,509 batters (a record he held for 56 years) and threw 110 shutouts (a record that will never be broken). He is the only pitcher in baseball history to record over 400 wins and strike out over 3,500 batters. Johnson led the American League in wins six times and in ERA five times. He was a two-time AL MVP.
This is every bit as great as Ovechkin — perhaps even more. To deny it somehow means less than scoring goals in 2022 is a level of great ignorance.
A few years later, a quarterback from Texas would be drafted by the new NFL team in Washington, the Redskins, and would change sports in this city forever.
Sammy Baugh led the new Washington Redskins to the NFL Championship in his rookie year in 1937. He would take the Redskins to five NFL Championship games, winning two. He was an eight-time All-Pro who led the league in passing yards four times and touchdown passes twice. Baugh led the NFL in completion percentage eight times, including a 70.33% mark in 1945, which was an NFL record until Ken Anderson's 70.55% in 1982 and is still fourth all-time for a single season.
Did I mention he also led the NFL in punting five times and interceptions as a safety one season?
The Associated Press named Baugh the third greatest player in NFL history in 1999. The NFL Network named him the most versatile player in league history.
And, by the way, he was used as a role model by Robert Duvall for Gus McCrae in "Lonesome Dove."
He was one of the greatest players in NFL history. Is that great enough for you?
I might point out that in both the Baseball and Pro Football halls of fame, Walter Johnson and Sammy Baugh were in those inaugural classes.
Wait a minute. I'm not done. This next man shouldn't be forgotten, either.
Josh Gibson was one of the greatest players in baseball history. But he played in the Negro Leagues because his color and talent were banned from Major League Baseball. That talent was on display for Washington baseball fans at Griffith Stadium from 1937 to 1939 and from 1942 to 1946 with the Homestead Grays, who called Washington home for many of their games during those periods.
Gibson, a catcher, was the second Negro League player elected to Cooperstown, behind Satchel Paige. His plaque says he hit almost 800 home runs, but that was against all levels of competition, including barnstorming games. But research has shown that Gibson, in 598 Negro League games over 14 seasons, hit 165 home runs, drove in 730 runs and batted .374. Gibson played in the Negro Leagues East-West All-Star Game 12 times, with two contests in three of those seasons. In 2000, he ranked 18th on The Sporting News list of 100 Greatest Players in the history of baseball.
This was, is, and will remain great, every bit as great as Alex Ovechkin. And it's a great conversation.
⦁ Hear Thom Loverro on The Kevin Sheehan Show podcast.