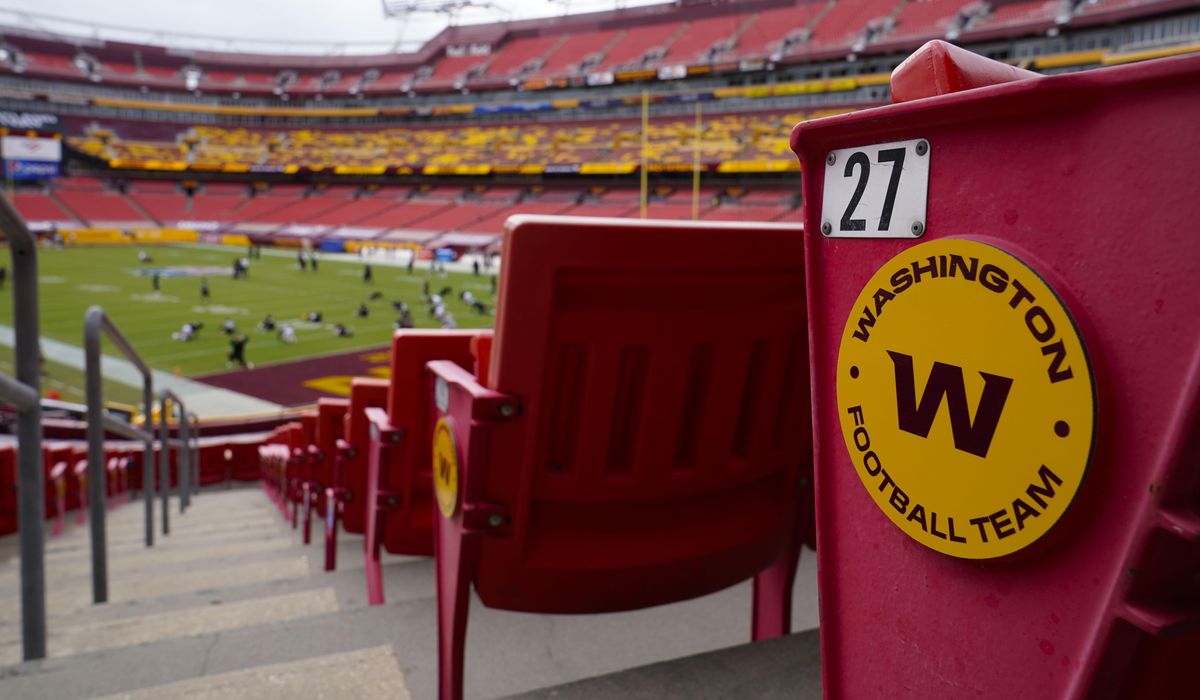 Now that the 2022 World Cup is over in Qatar — a Middle East country not even as big as Connecticut, where they spent $220 billion and killed 500 people, by its own count, to host the event — the focus will now be on the next games, spread across a whole continent.
The 2026 World Cup will be played in North America with games set for Mexico's Guadalajara, Mexico City, and Monterrey; Canada's Toronto and Vancouver; and in the U.S., Atlanta, Boston, Dallas, Houston, Kansas City, Los Angeles, Miami, New York/New Jersey, Philadelphia, San Francisco Bay area and Seattle.
And Scranton.
Just kidding about Scranton. It's just a funny word to say or type. Like Buffalo.
Here's where not one single World Cup game will be played in 2026 — Washington, D.C., the nation's capital, when the country will be celebrating the 250th anniversary of the Declaration of Independence.
That's stunning. How could that happen?
Ghost Town Field, officially named FedEx Field, was offered by Washington Commanders owner Dan Snyder as a potential host stadium for games by the DC2026 World Cup bid committee.
They knew the stadium was a nonstarter before the local bid was even submitted.
Before a September inspection by FIFA officials, the Washington Post wrote: "It's hard to imagine Washington not making the cut as a host city when the 2026 World Cup is held in North America. The D.C. area, after all, already has staged games in three World Cups (one men's, two women's), has hosted Olympic soccer twice and has provided the stage for countless other international soccer events over three decades."
But after the tour, FIFA officials told local organizers that the stadium was unacceptable to host World Cup soccer games, according to the Washington Post, though no one said so publicly.
The committee tried to salvage the bid by uniting with Baltimore, putting M&T Bank Stadium in play. But by then FIFA officials already had a sour taste in their mouths, like stale beer at Ghost Town Field, and said no thanks.
"D.C. is the No. 1-ranked television market for English Premier League soccer," said Max Brown, chairman of the board of directors for EventsDC, the local sports authority, the Post reported. "So I don't know what the hell FIFA was looking at when they made that decision."
Actually, he probably had a pretty good idea what FIFA was looking at — a radioactive stadium with a reputation that was even worse than its disrepair.
Greg O'Dell, Events DC executive director, told the Washington Post that the stadium had some problems. "We recognize the stadium has some particular challenges," he said.
But according to one member of the DC 2026 Advisory Board, they knew its bid was likely doomed from the start — even though by all other measures, Washington, a hotbed for soccer and one of the world's most prestigious cities, was an attractive option.
They knew Skipper Dan's stadium would be unacceptable before FIFA officials ever got a look at it, said the board member who asked not to be identified. "But what were we supposed to do?" they asked. "Not put in a bid? How would that have looked."
Being rejected doesn't look much better.
It certainly didn't look good for the Commanders, though they are in the shame and embarrassment business, so it was just another day at the office. Team President and chief blunder officer Jason Wright tried to pretend it was the team's idea to pull its offer of the stadium from the bid.
"We are committed to supporting the World Cup through other means as it has the great potential to unite our strong soccer community regionally and collaborating with Events DC to attract other major, non-NFL events that can serve our sports-obsessed region," Wright said in a statement.
But this weak effort to save face didn't fool anyone, and finally, at the Dec. 8 ceremonial removal of seats at RFK Stadium, Mayor Muriel Bowser said on the record what everyone knew — Ghost Town Field lost the World Cup bid for Washington.
"We were disappointed recently, for example, when D.C. was not chosen as a site for the 2026 World Cup and we know the biggest reason for that is we didn't have a stadium that could support the event," she said.
Everyone is hoping that Skipper Dan — who has become so toxic that no politician actually wants to stand on a stage with him and introduce new stadium plans — does indeed sell the team and a new owner opens the door for a new stadium on the RFK site.
"We talk about bringing a new stadium here. Part of that conversation of course is about football, but it's also about our ability to be able to host big events," Bowser said.
"Over nearly six decades we hosted the best athletes on this campus and we want to continue to do that," she said. "Hopefully one day when they grow up the kids that have played here will also be able to compete in the Olympics and the World Cup right in their hometown."
Hear Thom Loverro on The Kevin Sheehan Show podcast.