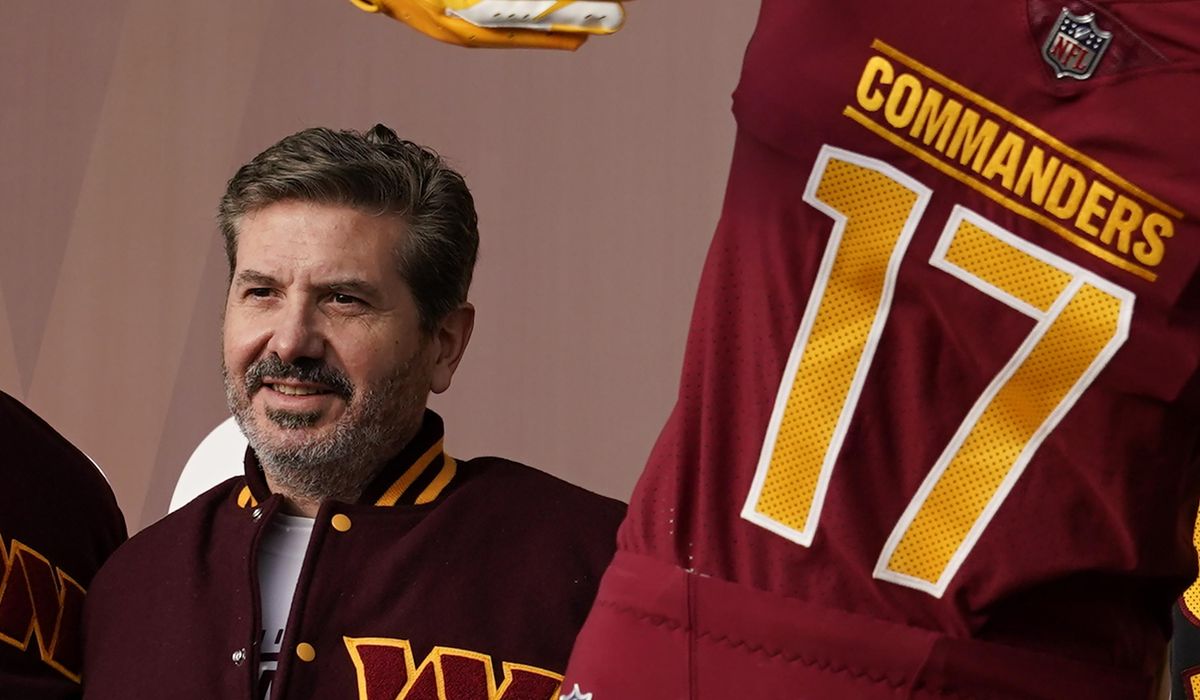 In all the talk about what it would take to perform the public service of ridding Skipper Dan the Sailing Man from the lives of battered Washington Commanders fans, the speculation has always been about needing a smoking gun.
That's supposedly what the NFL is waiting for — the results of the investigation by former federal prosecutor Mary Jo White into the sexual misconduct allegations against the Commanders owner by former Washington employee Tiffani Johnston.
But what if the smoking gun was already uncovered, talked into existence by the league itself, when former New York prosecutor and now NFL legal lackey Lisa Friel — speaking to reporters about the Beth Wilkinson investigation into Skipper Dan and his damaged dysfunctional business — said the following in July 2021 statement issued by the league:
"For many years the workplace environment at the Washington Football Team, both generally and particularly for women, was highly unprofessional. Bullying and intimidation frequently took place and many described the culture as one of fear, and numerous female employees reported having experienced sexual harassment and a general lack of respect in the workplace.
"The culture of the club was very toxic."
At the time, there was deservedly much outrage over the league's refusal to reveal the details of Wilkinson's lengthy probe into allegations that first surfaced in a July 2020 Washington Post story of 15 women making allegations of workplace abuse, bullying and sexual misconduct running rampant through the team's headquarters. That number would expand to 40 employees making allegations through their attorneys.
Bullying, intimidation and a toxic workplace in July 2021 earned a slap on the wrist and a $10 million donation to your own charity.
But things change. Life comes at you fast.
In October 2022, bullying, intimidation and a toxic workplace are suddenly so problematic that the United States Surgeon General has issued a national report on the impacts on our society.
Working for a bad boss is the cancer, complete with a warning label: "Warning, employment here could be hazardous to your health."
"Toxic workplaces are harmful to workers — to their mental health, and it turns out, to their physical health as well," Surgeon General Vivek Murthy said in the report, "Workplace Mental Health and Well-Being."
The report, released last week, details five essentials for workplace mental health and mental well-being. One of them is "Mattering."
"It rests on the human needs of dignity and meaning. Dignity is the sense of being respected and valued. When the dignity of workers is affirmed and supported in the workplace, it enhances well-being. Conversely, being made to feel disrespected or not valued may lead to an increase in stress and feelings of anger, cynicism, hostility, and withdrawal."
Anger, cynicism, hostility and withdrawal sound like Skipper Dan's four horsemen for failure.
The Commanders will tell you all that's in the past — that since it was revealed to the world Skipper Dan ran a ship of horrors, they have made progress to change their toxic workplace.
Vestry Laight, a company that helps organizations respond to workplace issues, gave the Commanders high marks for their efforts in their report to the NFL.
"An empowered leadership team is intentionally and holistically driving a culture that is inclusive, high-performing and accountable," the July 2022 report stated. "Interviewees appreciate these efforts as well as efforts by People Operations to create a respectful work environment and the processes that have been put in place to address any concerns."
Which is laudable, but it doesn't address the issue of the person at the top of the organization who, by all accounts, had never personally "empowered leadership" and created "a respectful work environment." Skipper Dan is still at the helm and a cleanup crew might not be enough.
Workplace intimidation and behavior is now in the spotlight. When Indianapolis Colts owner Jim Irsay spoke out against Skipper Dan after the NFL owners meeting on Oct. 18, he specifically used the word "workplace" in his comments.
"I just think what's happened in the workplace." Irsay said. "Having three daughters, seven granddaughters, that's just not — again, we have to look at the investigation and see the finale of certain things that happened because there's a lot of different things that have happened. You can't shy away from the fact of — it's an unfortunate situation — but I believe it's in the best interest of the National Football League that we look it squarely in the eye and deal with it. I think America and the world expects us to as leaders."
According to an ESPN account, NBA Commissioner Adam Silver apologized to Phoenix Suns employees before the team's opening game for "enduring years of workplace misconduct under Suns majority owner Robert Sarver," who after being suspended for a year following a report revealing workplace misconduct, is now selling the franchise.
"I'm incredibly empathetic to what many of you have lived through," Silver said.
That report — made public by the NBA — did accuse Sarver of using racist language in the workplace, the sort of smoking gun that observers believe may be needed to force an owner out. Nothing like that has surfaced involving Skipper Dan, though remember, there is no such report to be reviewed publicly by the NFL, which has refused to reveal the details of the Wilkinson investigation.
But in the fast-changing world of public judgment, a "toxic workplace" alone may be a bridge too far to be tolerated any longer without severe consequences — especially a toxic workplace that existed over 20 years.
Maybe we've come far enough in our culture that being the bad guy in charge is a smoking gun.
⦁ Hear Thom Loverro on The Kevin Sheehan Show podcast.