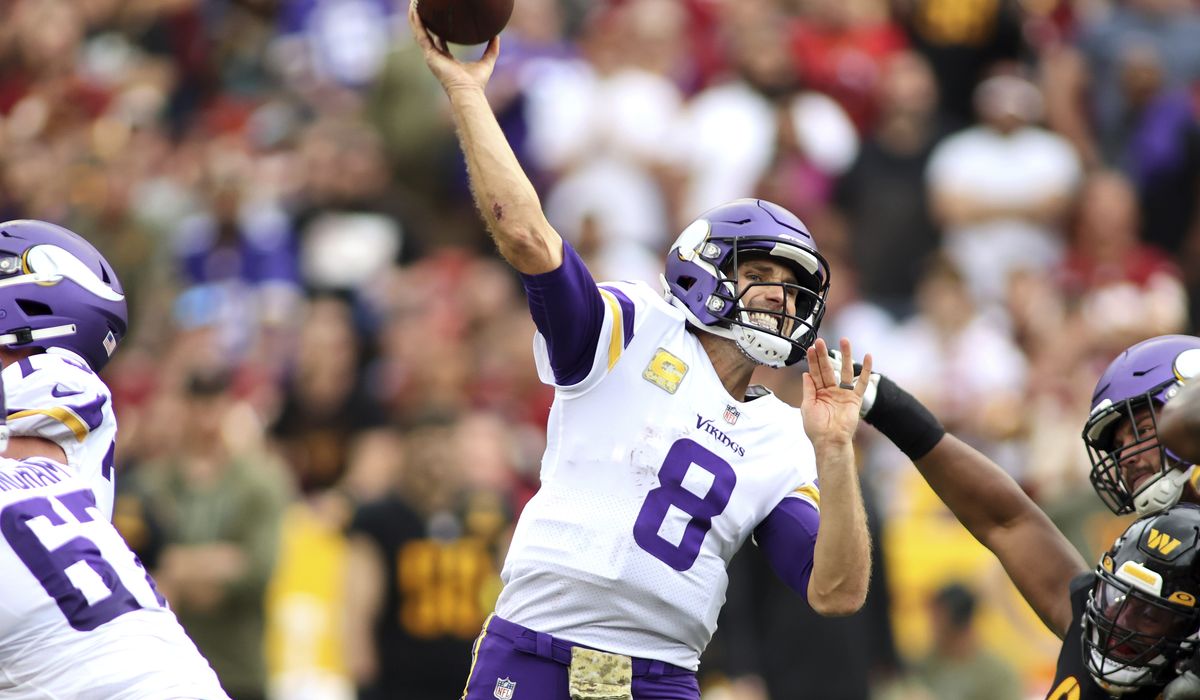 Washington Commanders fans had forgotten the chants of "Sell the Team" that they made coming into Ghost Town Field Sunday. They put down their "Sell the Team" signs they had waved early in the game, hoping perhaps that a television camera might see them and tell the world of their anger toward franchise owner Skipper Dan the Sailing Man and their joy of the news that he was putting the team up for sale.
Those chants were replaced by "Heinicke, Heinicke," the underdog quarterback who had somehow staked his team to a 17-7 lead over the favored Minnesota Vikings early in the fourth quarter. The signs were put down and the half of the stadium that wasn't Vikings fans cheered as deliriously as they had all year.
They had seen the Taylor Heinicke magic.
The quarterback had given Washington a 10-7 lead early in the third quarter on perhaps the worst pass anyone threw that day — an up-for-grabs ball at the end zone for Curtis Samuel and the three (yes, three) Vikings defenders around him. The last thing anyone expected to see was a Washington touchdown. But an official knocked down Minnesota safety Camryn Bynum, creating a chaotic scene that ended with Samuel catching the ball and rolling into the end zone.
Heinicke, the former XFL backup and last year's Washington starter who began this season as the backup to the damaged Carson Wentz, added another score, a six-yard touchdown to Dax Milne at the beginning of the fourth quarter, and now the crowd was mesmerized by Heinicke magic.
Then Kirk Cousins showed the whole stadium what true magic was.
The former Redskins quarterback brought the Vikings back from a 10-point deficit to take a 20-17 victory, giving Minnesota a 7-1 record and dropping Washington to 4-5.
As Commanders fans left Ghost Town Field, they had returned to the reality that is the Washington football fan, chanting "Sell the Team" as they exited.
It was Cousins who was the sorcerer, taking a pounding behind the line from the tough Washington pass rush, yet never wavering, standing in the pocket on third and seven and unleashing a picture-perfect pass 47-yard pass to Justin Jefferson early in the fourth quarter down to the Washington 12-yard-line. That led to a Minnesota field goal to make it a 17-10 game, followed by a Heinicke interception that led to the tying 12-yard touchdown pass to Dalvin Cook. They would seal the win with a 28-yard field goal with less than a minute left in the game.
When Cousins got into the locker room, he received the game ball, and he gave them his legendary, "You Like That" yell made famous at this very stadium following his 31-30 comeback win over the Tampa Bay Buccaneers in 2015 — the famous Jay Gruden "Code Red" game.
"I can tell you his teammates were very excited when he received the final game ball in the locker room. You could feel what this guy means to his teammates, this organization," said Vikings coach Kevin O'Connell — another brilliant young head coach who had been in the building in Ashburn during the Mike Shanahan regime
Cousins is one piece of solid evidence of how warped the football operation has been under Skipper Dan. They managed to alienate and tear down Cousins at every opportunity when he was here from 2012 to 2017, turning the best quarterback this franchise has had in decades into a villain in front of their poisoned fan base.
And yet, when Skipper Dan and his imaginary friend, General Manager Bruce Allen, had a chance to trade him for value — a No. 1 pick from the San Francisco 49ers, where former Redskins offensive coordinator and 49ers head coach Kyle Shanahan coveted Cousins — they refused, simply out of spite for the Shanahans.
That's some black magic, there.
Cousins started every game in Washington from 2015 to 2017 — 48 straight starts. Since then, the franchise has had more quarterbacks start games than Skipper Dan has investigations. If 90% of life is just showing up, as Woody Allen once said, Cousins always showed up.
Where was the $28 million quarterback the Commanders — most likely Skipper Dan — traded for this off-season? Nursing a broken finger.
You won't hear a bad word from Cousins about his organization, at least not yesterday, when he certainly had the opportunity to take a shot at Skipper Dan.
Cousins said he felt emotional coming back to Ghost Town Field — not emotional like Commanders fans getting sick to their stomachs — but spoke of the fond memories he has of his time in Washington.
"I had a lot of warm emotions and gratitude that I got to play here," he said. I am so grateful that I got to play here and play for the coaches that I did. It was a blessing. They believed in me before I believed in myself."
Conjuring up fond memories of this place may border on witchcraft.
The Heinicke magic was like flash paper Sunday. He better have a Houdini act next Monday night when they travel to Philadelphia to face the Eagles, or else Rivera will have to pull Carson Wentz out of his hat once more.
That won't be magic.
You can hear Thom Loverro on The Kevin Sheehan Show