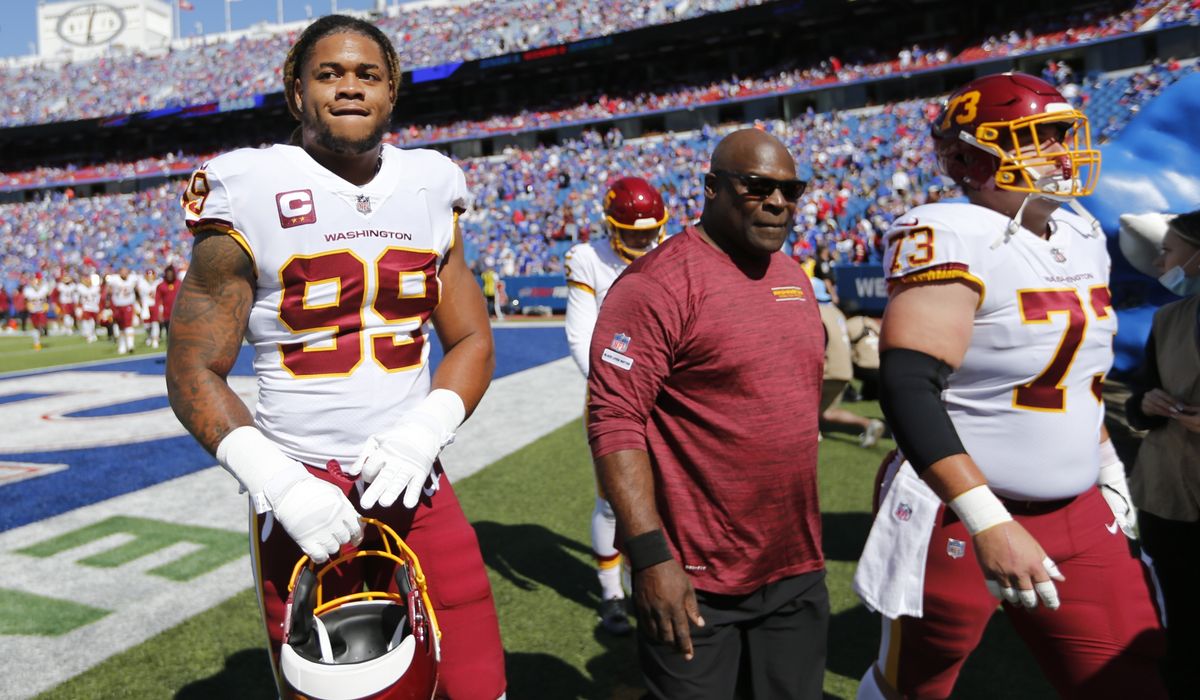 I know Chase Young can manhandle a blocking sled. I watched him do it all day Sunday in an Under Armour commercial. Slams it, tosses it over and screams. The sled was frozen in fear.
Quarterbacks? Not so much these days.
The best hit Young may have gotten Sunday on Buffalo quarterback Josh Allen in the Washington Football Team's 43-21 loss to the Bills was when they embraced in the tunnel under the stadium before the game.
After that? If he was appearing on a game show, it would have been, "I've Got A Secret" — the secret being he's supposed to be a wrecking machine on the field.
Three games, no sacks — hardly a dent.
The highly-touted Washington defense has been under attack since it faced Tampa Bay in the wild-card game last year and gave up 507 yards of offense.
That was the eventual Super Bowl champion, but since then it's gone up against the Los Angeles Chargers, New York Giants and now the Bills, and all three teams rolled up yardage totals on that Washington defense that some of its fans have not seen for several seasons.
This was not what everyone expected. It's certainly not what coach Ron Rivera expected. "My expectations were to play better than we did," he told reporters after Sunday's loss in Buffalo.
Let's talk expectations.
Young had a lot of them coming out of Ohio State as a game-changing defensive player and the No. 2 pick by Washington in the 2020 draft. He lived up to those expectations in his rookie year and was named NFL Defensive Rookie of the Year.
It wasn't just that. He emerged as the flag-bearer for Rivera's culture change, a team leader. Young was named a captain in the final weeks of the 2020 season, filling the vacancy of another hyped top pick, quarterback Dwayne Haskins, whose talent didn't make up for his lack of maturity and leadership.
Then came the "Family Feud" game show appearance, the commercials and other business ventures, and, oops, no time for voluntary offseason team workouts, even though nearly all of his teammates were in attendance. Not the captain, though, and it clearly bothered Rivera, who made a point of praising guard Brandon Scherff's leadership for showing up for the workouts, considering he is in the final year of his contract.
"It is good to have Brandon here," Rivera said during those workouts. "He most certainly is a leader. He's an influential person on our team, and it's good to have a guy like that here."
Shots fired, baby.
Rivera, though, has been careful not to criticize Young publicly. He has spoken repeatedly after these defensive debacles about guys not going their jobs, without picking anyone out. And when questions come up about the lack of production from Young, Rivera has tried to cover for him.
"When he's getting doubled, when he's getting chipped, I mean, it's tough," Rivera said last week. "I get that part, I know how hard it is. I watch some of the really great players struggle through times like this because everybody's got an answer, everybody is doing something [to slow them down]. And when you affect the way people approach you and approach your team, you're an impact player."
Defensive coordinator Jack Del Rio, who may soon find himself as Herschel Walker's campaign manager if the defense doesn't improve, wasn't as sympathetic. "That's part of it," Del Rio said last week. "It was part of it for [Bears LB] Khalil Mack, [Former DE] Julius Peppers, [Broncos OLB] Von Miller, any of the guys that I've had. That's part of playing a defensive end in this league."
That's the company where people believe Young belongs in — not unreasonable expectations, given his talent.
What may have been just as alarming as Young's play Sunday was his postgame act. He dropped this on reporters. "We've just got to play together," he said. "We're not doing that right now. You know, the D-line, we're not the only people on the field. It's the linebackers, the DBs. We all have to play as one."
That may be a little too close to this:
"It takes 11 men. It doesn't take one guy, and that's proven. If you want to look at the good teams in this league and the great quarterbacks, the Peytons and the Aaron Rodgers, those guys don't play well if their guys don't play well. They don't. We need everybody. I need every one of those guys in that locker room, and I know they're looking at me saying the same thing."
In case you have forgotten, that was from the Book of RG3, November 2014.
What may be happening is that the Washington Football Team may have another LaVar Arrington on its hands. Arrington was the most physically talented player I've ever seen. And as a linebacker, he had moments to match that talent. But he never truly fulfilled expectations, partly due to injuries and partly because of "not doing his job" at times. His profile far outkicked his production, as he sought stardom off the field.
Young seems like a decent, smart young man who may have too many demands around him, demands he may have welcomed. He certainly has time to get this right, and he seems to have the talent for the glitz to naturally match the glory. But first he needs to get the glory. That won't come from intimidating blocking sleds.
You can hear Thom Loverro on The Kevin Sheehan Show podcast.