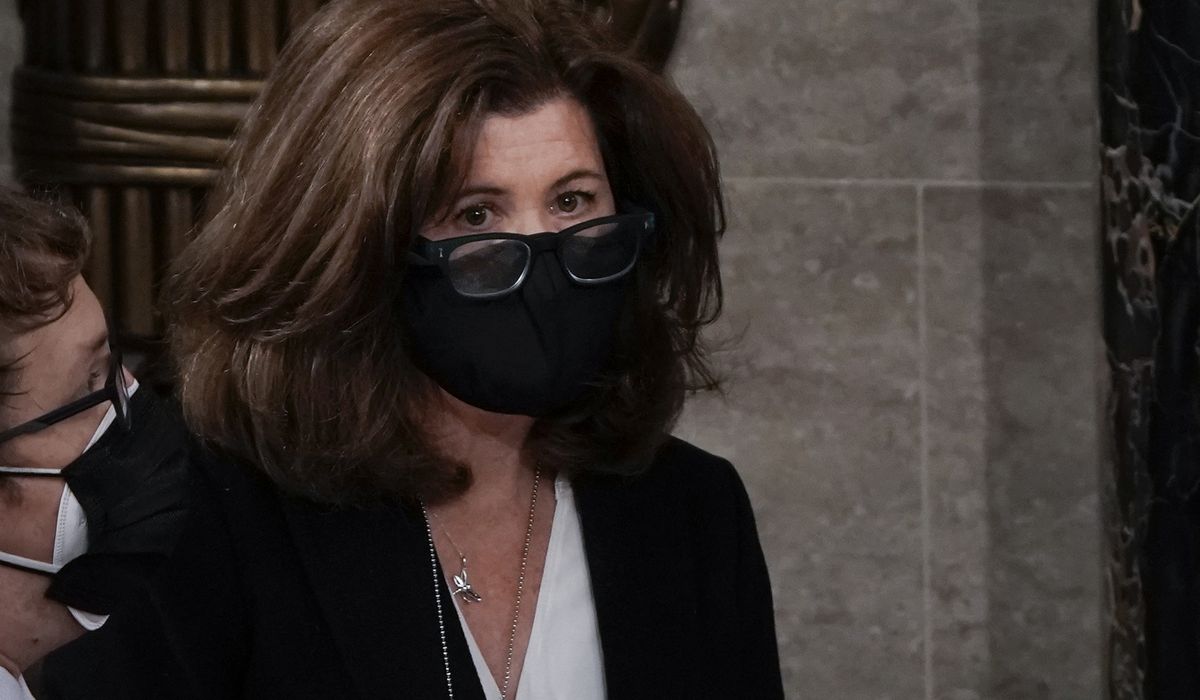 Senate Parliamentarian Elizabeth MacDonough shot down Democrats' plans to add an amnesty for as many as 8 million illegal immigrants to the $3.5 trillion budget bill, ruling Sunday that the sweeping move would violate the chamber's rules.
Democratic leaders pronounced themselves disappointed but insisted they'll try to find other ways to work toward legal status for illegal immigrant "Dreamers," holders of Temporary Protected Status and "essential" workers.
"Senate Democrats have prepared an alternative proposal for the Parliamentarian's consideration in the coming days," said Sens. Richard Durbin and Alex Padilla, the two top Democrats on immigration matters in the Judiciary Committee.
Democrats had hoped to use the budget "reconciliation" process to win an amnesty without having to survive a GOP-led filibuster. It was always going to be a tough path, needing all 50 members of the Democratic Caucus on board and the tie-breaking vote of Vice President Kamala Harris.
Ms. MacDonough's ruling means they might not get the chance.
As parliamentarian, she is the gatekeeper of the chamber's rules, and under the budget process she is granted power to referee whether the policies included in the budget bill are actually focused on the budget, or merely incidental.
Democrats argued the effects of an amnesty would be hundreds of billions of dollars in government revenue and benefits over the coming decades, which meant it should qualify as a budget measure. Republicans argued those effects were ancillary, and said the plans would increase the deficit in future decades, which is also a violation of budget rules.
Republicans praised Ms. MacDonough's ruling, saying it gives the Senate a chance to attempt a bipartisan immigration overhaul that would focus on border security and other reforms, in addition to legalizing illegal immigrants.
"Having worked on several comprehensive immigration reform bills, I believe that using the reconciliation process to provide legal status to illegal immigrants would be a disaster," said Sen. Lindsey Graham, South Carolina Republican. "It would have led to an increased run on the border – beyond the chaos we already have there today."
The House, which lacks a similar rule on budget issues, had already taken the first steps toward approving the amnesty, with a multi-tier approach to legal status and eventual citizenship for those who qualify.
The House Judiciary Committee cleared the bill last week, beating back GOP criticism that the measure lacked any border security or enforcement provisions, at a time when the border is facing an unprecedented wave of illegal immigration.
Immigrant-rights activists insisted Democrats not drop the push for amnesty despite Ms. MacDonough's ruling.
"This process is just beginning," said Angelica Salas, executive director of the Coalition for Humane Immigrant Rights. "The first option was decided upon by the parliamentarian but others options have been prepared and are available. We urge Democrats to use all tools at their disposal to prevail and deliver a path to citizenship to our families and communities."
Should Ms. MacDonough remain a hurdle, Democrats have a few other options, including attempting to overturn her decision in a partisan vote, or to fire her and try to install someone more amenable to their plans. Republicans did that two decades ago
Democrats could also attempt to eviscerate the filibuster, or they could scale back their plans and work with Republicans on a bipartisan bill that could clear the filibuster threshold.
Senate Minority Leader Mitch McConnell, Kentucky Republican, said Sunday that's what the chamber should have been doing all along.
"Tonight's ruling confirms that principle. Democrats will not be able to stuff their most radical amnesty proposals into the reckless taxing and spending spree they are assembling behind closed doors," he said.
The amnesty was one spoke in the massive bill, which aims to expand government health care and welfare programs, curtail greenhouse gas emissions and retool the economy for a greener future, and pay for most of it through unprecedented tax increases.
Analysts have declared the bill the critical test for President Biden, saying his domestic agenda, and potentially his lasting legacy, are at stake.