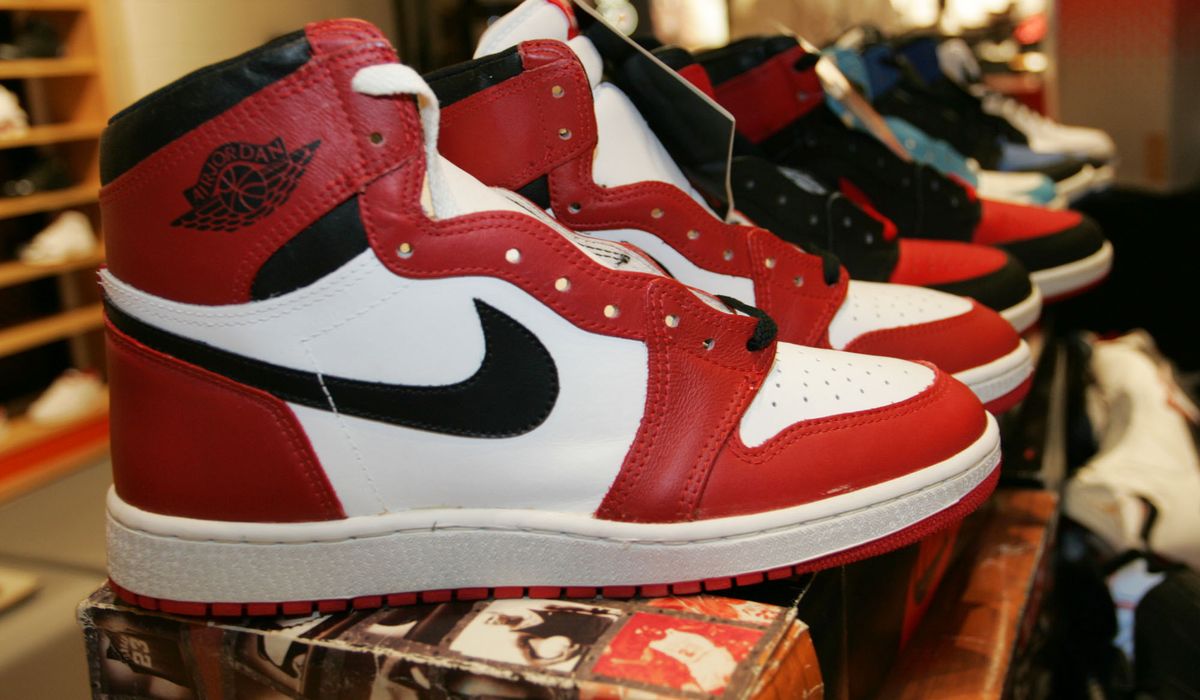 Jeff Fried is a high-powered Washington entertainment and sports lawyer who has represented performers, NBA stars and heavyweight champions. He has always had a vision that went beyond his law office.
He had this business opportunity a few years ago to enter a world that was foreign to him, a world where sneakers — vintage, not new, sneakers — are purchased and resold at an event called "Sneaker Con." He sent one of his employees there to check it out.
"This woman in my office goes and sees a 12-year-old boy with about $150,000 worth of sneakers," Jeff said. "His parents were there, but he was the one behind it. She asked, 'So how did you get involved in this and Sneaker Con?' He said, 'I bought a pair of shoes that my friends said were great, and I was able to sell them and make so much money that I was able to buy two shoes and kept it growing.' She asked, 'What do you think about Sneaker Con and where does it go?' He gets out of his seat in his booth and says, "Ma'am, I don't mean any disrespect, but are we going to do business or what?"
"Right then and there, " Jeff said, "I knew something special was taking place."
Now Jeff Fried and his son Brad Fried, the co-CEO of Sneaker Con, along with co-CEO Alan Vinogradov, own and operate this festival of sneakers coming to the Walter E. Washington Convention Center Saturday and Sunday, as part of their global tour celebrating the world of resold sneakers.
"It is really a 100,000-square-foot footprint of everything related to sneakers," Brad said. "We'll have 400 plus vendors with tables with their collection. We'll have a trading pit where you have attendees that bring their collections to the event. We'll have different games, 3-on-3 basketball tournaments, and a skating rink with professional skaters for shows and demonstrations."
It's a world out there I knew nothing about, which always intrigues me — worlds with their own culture and language, doing millions of dollars of business — the kind of world that flourishes so often in the universe of sports.
Sports nurtures businesses selling merchandise that, to the average person on the street, might seem, well, overvalued. Baseball cards are a prime example: A collector's item that has risen, fallen and has now risen again, with huge sums of money tossed about for what used to be tucked inside a five cents pack of gum.
Sneaker Con — the celebration of resale sneakers — is a world that grew out of the generation of youths enamored with Michael Jordan, especially after the superstar came out with his own Nike sneakers, the Air Jordans in 1985. That was almost 40 years ago, and that generation and others will gather this weekend in Washington to share their passion and their money.
"When we got involved, the secondary sneaker market was growing, but it wasn't as commercialized or publicized then," Brad said. "There wasn't much institutional capital going toward these secondary market platforms. But now it has developed into its own industry, and sneakers are really their own asset class. People who are coming to our events are young entrepreneurs, they are learning supply and demand, negotiations, principles of business through sneakers. It gives people an identity and allows them to monetize and create a career off their passion."
They have expanded the Sneaker Con business to include 35 to 40 shows annually in cities around the world — Tokyo, Berlin and Sydney, among others. They also created a business of sneaker authentication, in a partnership with eBay, one of the presenting sponsors of Sneaker Con. They found there was a problem with fake sneakers on the market. Now they have six warehouses worldwide set up for the authentication process.
"If you purchase a sneaker on eBay, the seller of the sneaker would send the pair to one of our warehouses," Brad said. "One of our authenticators would authenticate it through our proprietary technique that we developed. We would then send the sneaker to you, with a verification tag from eBay and Sneaker Con. That is the business we sold to eBay in November."
Sneaker Con may be a global enterprise, but Jeff said each stop in a particular city has a local influence. "There is always some local aspect," he said. "You really can create something. When passion meets purpose, it creates a lot of positive opportunities."
Like this one: Jeff was at their Santa Clara Sneaker Con when a 16-year-old boy approached him. "Mr. Fried, this is such a great event," he said. "Thank you for putting it on. It is so much fun." His mother later came up to Jeff crying. "I asked if everything was OK," Jeff said. "She said she was divorced 2½ years ago. Since then, other than school, all her son did was sit in his room. He came to me two weeks ago because he saw something online about Sneaker Con and asked if I would take him. I am now watching him smile and interact with people for the first time in 2½ years."
Passion meeting purpose. For resale sneakers, of all things.
• Hear Thom Loverro on The Kevin Sheehan Show podcast.