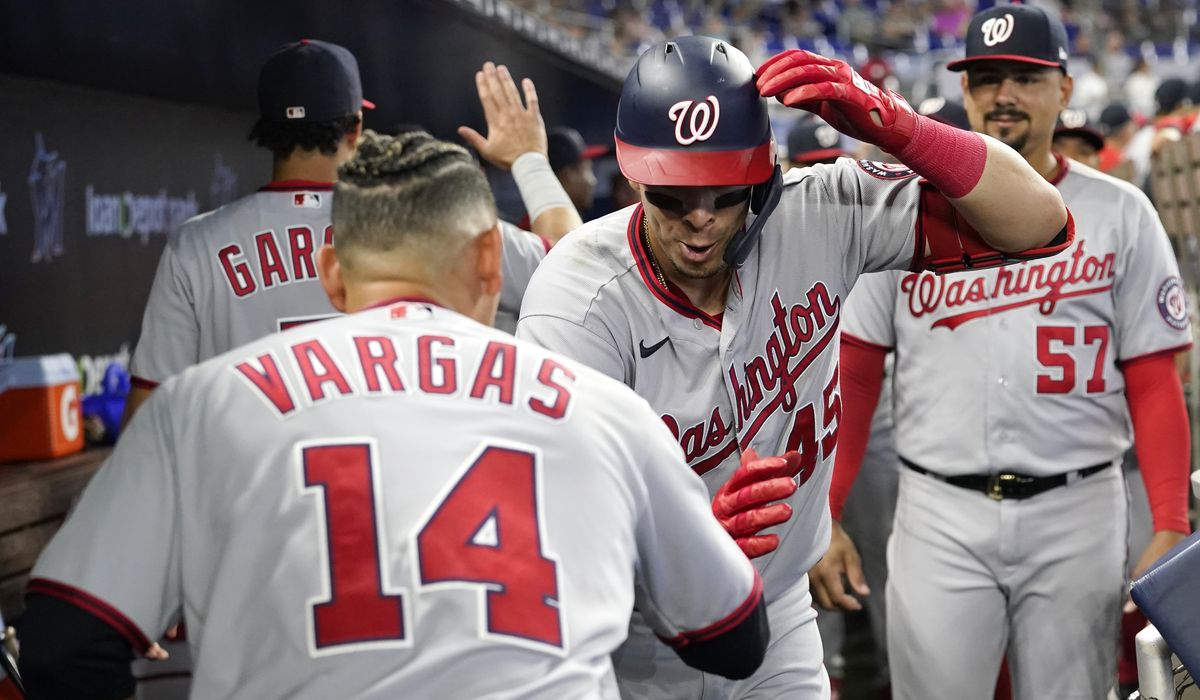 When reliever Sean Doolittle walked into the Washington Nationals' clubhouse in February — a homecoming after spending last year in the Cincinnati and Seattle bullpens — he didn't see many familiar faces from the 2019 World Series championship team he had been part of.
There was no Max Scherzer or Trea Turner or Anthony Rendon, all dealt away in the sell-off by the Lerner family, the Nationals owners who lost $200 million in their baseball business in 2020 and 2021 instead of reaping the rewards of a World Series title.
But Doolittle put on his rose-colored glasses and said, well, maybe they'll have a chance to compete in 2022 — if everything goes right.
"They did a good job of getting guys that will fit in really well, and if they do that, they are going to feel comfortable right away and give them the best chance to play well and to have everything mesh in the clubhouse," Doolittle said. "It's only been a couple of days, but it's been a lot of fun. It's a very different clubhouse. It has to develop, the chemistry for this year."
Doolittle wasn't around to see that chemistry develop. After six appearances in April, the 36-year-old relief pitcher was sidelined with an elbow injury for the rest of the season. Turned out their chemistry was fine. By 107 team loss standards, it was a good clubhouse.
What they were missing was, as the former Nationals manager Davey Johnson used to say, players "expressing their talents."
There wasn't much expression.
The reality is almost nothing went right this past season. They needed Doolittle to be a reliable setup man for the 2022 bullpen. Instead, he missed nearly the entire year.
Their World Series ace, Stephen Strasburg, had been facing live hitters in spring training, recovering from his 2021 thoracic outlet syndrome, following carpal tunnel surgery in 2020. They needed Strasburg to return to Strasburg form.
Instead, Strasburg made one start this season, then went back on the injured list with a rib injury and never took the mound again. He may never pitch again. He is still owed $140 million.
Patrick Corbin was a big part of that 2019 World Series team, with a 14-7 record, one of the best left-handers in the National League. That seems like a mirage now. Since then, he was 2-7 in the COVID-19-shortened 2020 season and then the worst pitcher in baseball in 2021, with a 9-16 record and a 5.82 ERA. They needed Corbin to be the pitcher they paid $140 million to in December 2018.
Instead, Corbin exceeded his woeful 2021 season with a 6-19 mark and a 6.31 ERA. He is still owed $60 million.
They needed Victor Robles to be the highly-touted center field prospect who had been sought after in trade talks by every major league team, the one who showed so much promise in 2019 with his play on the field and at the plate, hitting 17 home runs, scoring 86 runs and driving in 65, stealing 28 bases and batting .255 at the age of 22.
Instead, they continued to get Robles the bust. He has just 11 home runs over 291 games over the past three seasons and just 27 stolen bases.
This goes on and on. They hoped that third baseman Carter Kieboom would finally live up to his first-round draft selection in 2016.
Instead, Kieboom didn't play a game this year. He had Tommy John surgery on his right elbow in May. Phillies and Orioles reject Maikel Franco wound up Washington's starting third baseman for much of the season. He batted .229 with nine home runs and 39 RBI in 103 games.
They signed 41-year-old free agent designated hitter Nelson Cruz to be a team leader and a big bat in the lineup, hoping he could match last year's output of 32 home runs and 86 RBI.
Apparently, Cruz got the team leader part down, having been voted the Nationals Good Guy award by the local media. The big bat? A memory. Cruz hit just 10 home runs and drove in 64 runs in 124 games, with a .234 batting average.
They signed second baseman Cesar Hernandez to a one-year, $4 million deal. He was coming off a 21-home run season last year.
Hernandez had one home run this season for Washington.
Anibal Sanchez, 38, was out of baseball in 2021, two years removed from his standout 2019 championship season.
He got a spring training invitation from Washington and was impressive enough in workouts to get a contract. But he missed the first three months of the season with a neck injury. When Sanchez came back in July, he struggled to find that spring training magic. When he finally did, it was late in the season — 13 runs given up in 44 innings pitched since mid-August.
Then there was the most painful development — the war between the Nationals and agent Scott Boras that led to 23-year-old superstar Juan Soto being traded to San Diego for a group of promising prospects.
What went right? Joey Meneses, the 30-year-old minor league veteran who showed up after the Soto trade at the end of July and has been a hitting machine since — 13 home runs, 34 RBI and a .329 average.
It's like the lyrics to the song, "Born Under a Bad Sign" — if Washington didn't have bad luck in 2022, they wouldn't have no luck at all.
But that all could change this winter. The Nationals may have hit bottom, but the owners that took them from the outhouse to the penthouse and back to the outhouse — the Lerner family — are on the way out.
The light at the end of the tunnel is the sale of this franchise, which is expected to take place before next season. I have my doubts about that timetable, because of two things — the Lerners have a well-deserved reputation of being difficult to do business with; second, the complication of the Mid Atlantic Sports Network dispute between the Nationals and the Orioles that needs to be straightened out.
But whoever buys this franchise is going to face a fan base still in its adolescence that has been damaged by the Lerners' dumping of the talent that had "expressed itself." The new owners — whoever they are — will need to bring back the expression of talent. A lucky rabbit's foot won't be enough.
⦁ You can hear Thom Loverro on The Kevin Sheehan Show podcast.