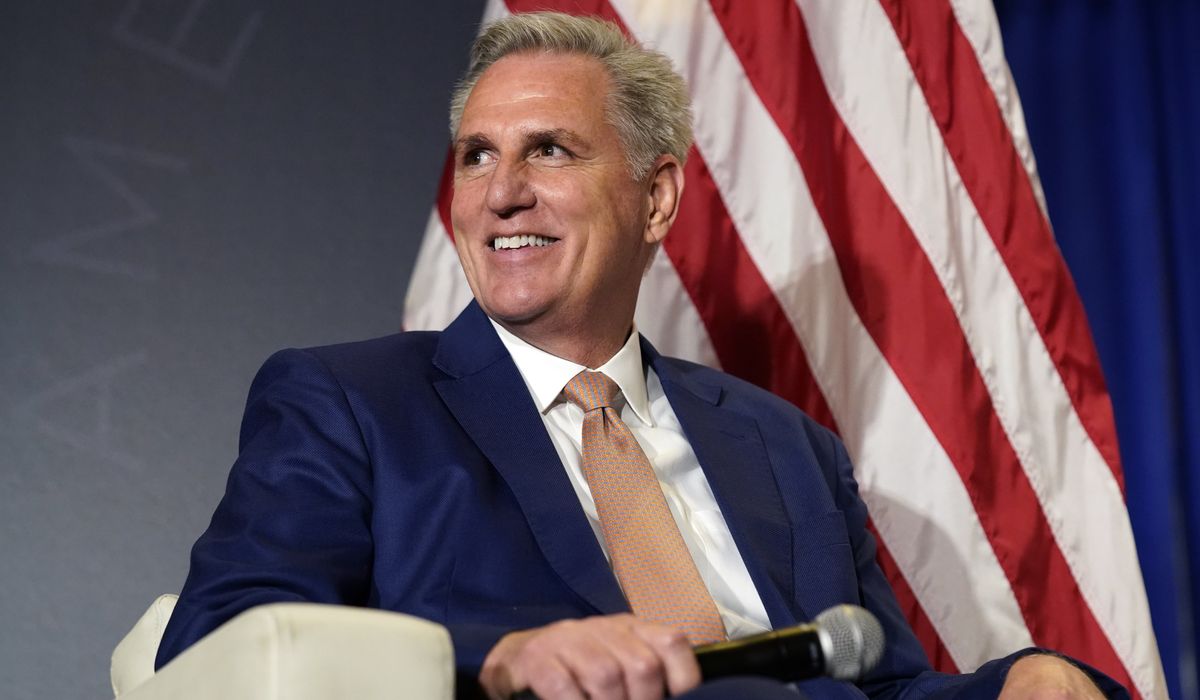 Republicans clinched a U.S. House majority Wednesday, dethroning Democrats eight days after the election, though several undecided races still will determine how slim a margin the GOP will have.
Republicans reached the 218-seat threshold Wednesday night after the election in California's 27th District was called for Republican Mike Garcia, who had been leading the count by double-digit percentage points.
Republicans will have a much smaller majority than they hoped for a little more than a week ago. Political prognosticators predicted that a red wave would flood the House with dozens of new Republican lawmakers.
There are a handful of outstanding races that could tip to Republicans, giving them a few more seats and critical breathing room they'll need to pass legislation and elect a speaker. But their advantage could be historically small, which could make life difficult even for the majority.
No matter how nominal their majority, Mr. Garcia's win effectively gives Republicans the gavel and full control of the House floor schedule, effectively putting a stop to Democratic control of government and halting President Biden's agenda.
Rep. Kevin McCarthy of California, who has served as minority leader for four years and is now projected to become House speaker, issued a statement Wednesday celebrating the news that Republicans and analysts had been predicting for days.
"It's official," Mr. McCarthy tweeted in all capital letters.
"One-Party rule is OVER @HouseGOP and I are ready to get to work for the American people and fulfill our #CommittmentToAmerica with a GOP House Majority," he continued.
President Biden issued a statement soon after the Republicans crossed the majority threshold. He pledged to work with Republicans and signaled that the decision by voters to put another party in charge of the House has sent a message he won't ignore.
"In this election, voters spoke clearly about their concerns: the need to lower costs, protect the right to choose, and preserve our democracy," Mr. Biden said, mentioning key Democratic issues with the latter two concerns.
"The future is too promising to be trapped in political warfare. The American people want us to get things done for them. They want us to focus on the issues that matter to them and on making their lives better. And I will work with anyone — Republican or Democrat — willing to work with me to deliver results for them," he said.
In addition to controlling the floor, Republicans will control House committees, putting them in a position to ramp up investigations into the Biden administration and the Biden family business dealings, something they have long pledged to do.
House Oversight and Reform Committee Republicans announced a press conference Thursday "to provide an update on the investigation into the Biden family's influence peddling to enrich themselves and announce next investigative actions."
The win marks another swing in the political pendulum that has gone back and forth between the two parties for more than 15 years.
House Republicans controlled the majority from 1995 until 2007, losing dozens of seats to Democrats in the second midterm election under President George W. Bush. Republicans took the gavel back in the 2010 tea party wave, when voters rejected the Democratic agenda under President Obama. Democrats were back in charge again in 2018, this time as a result of voter dissatisfaction with President Trump's first two years in office.
Now Democrats will hand over the gavel once again, and this time it could signal the end of House Speaker Nancy Pelosi's career on Capitol Hill.
Mrs. Pelosi, 82, had already promised rank-and-file Democrats that she would not seek another term as party leader after the 2022 elections, but she has not announced officially that she'll step aside.
Mrs. Pelosi was speaker from 2007 to 2011 and took over the gavel again in 2019.
She's the oldest speaker ever and has been a member of Congress representing her San Francisco district since 1987. Mrs. Pelosi has been the House Democratic leader since 2003, meaning most members of her caucus have never had another leader.
Her aides did not immediately respond to a Washington Times request for a comment on the Republicans' win.
For Mr. McCarthy, 57, his immediate task is securing enough votes to become speaker.
He won the nomination from his Republican Conference this week, but more than 30 Republicans voted against him.
That number is expected to shrink considerably, but if the Republican advantage ends up just being a seat or two, Mr. McCarthy will have little or no room to spare on the opening day of Congress when both parties vote to choose a speaker.
After that, Republicans will function as the brakes on the Biden agenda and little more.
Any big policy bill Republicans pass is doomed to die in the Senate, where Democrats held on to their narrow majority in the midterm elections.
They'll have leverage on must-pass spending legislation and critical authorization bills. And they can use floor time to pass big messaging bills that won't become law but could position the party for more wins in the 2024 election and perhaps help secure a Republican takeover of the Senate and White House.
If Republicans can pull that off, it will be yet another swing, this time giving one-party control of government to the Republicans.