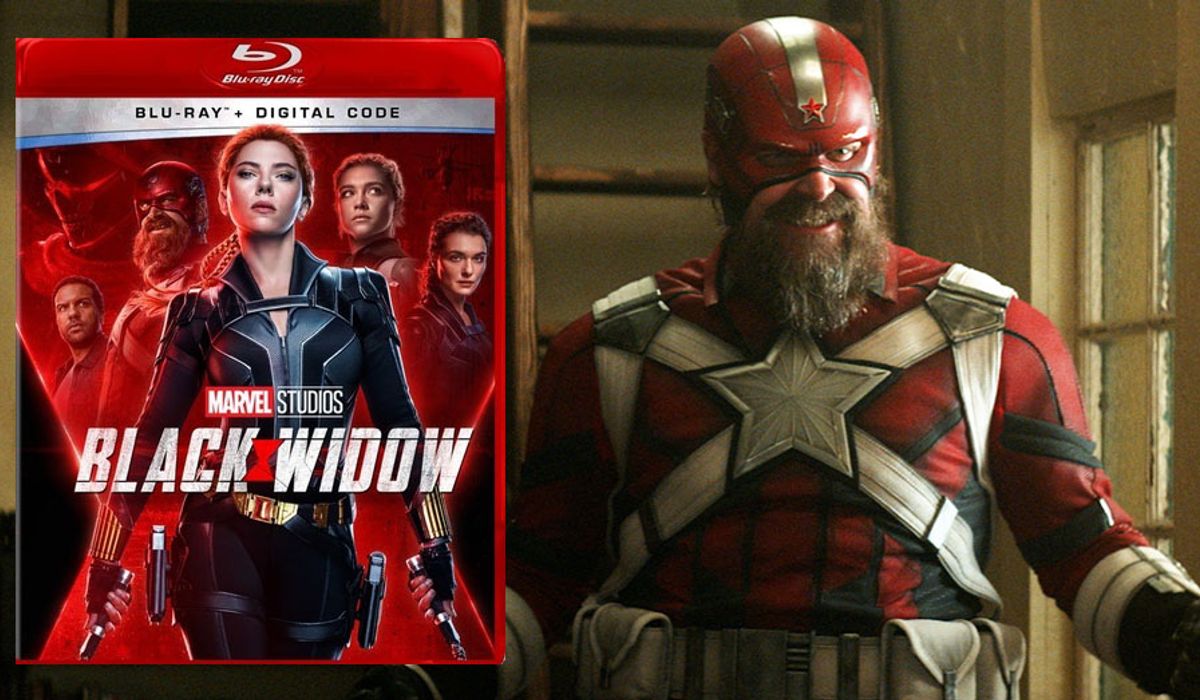 A core member of the Avengers got her own live-action movie that was finally released in theaters and the Disney Plus streaming service this summer after over a year-long delay due to the coronavirus pandemic.
Now available in high definition on a Blu-ray disc, Black Widow (Walt Disney Studios Home Entertainment, rated PG-13, 2.39:1 aspect ratio, 134 minutes, $39.98), director Cate Shortland's big-budgeted effort, plunges viewers into the world of premiere international assassin Natasha Romanoff aka Black Widow (Scarlett Johansson).
The tale focuses on her days right after the signed Sokovia Accords that made her a hunted fugitive. It takes her on the run and around the world, teaming up with old friends to solve a tragic conspiracy deeply linked to her past.
The film offers an emotional, family-centric origin story for fans of Black Widow, a roller-coaster ride's worth of action and another chance to bring some well-known as well as obscure Marvel Comics' characters to the live-action format.
Under origins, we learn about a pair of young sisters living in Ohio with their supposed parents who are actually Soviet spies. We also learn about the mysterious Soviet-funded Black Widow training program aka Red Room that turned orphans including Natasha into mind-controlled killers.
Under characters, fans get to meet Soviet super-soldier Alexei Shostakov aka Red Guardian (David Harbour), Black Widows Melina Vostokoff (Rachel Weisz) and Yelena Belova (Florence Pugh), Red Room mastermind General Dreykov (Ray Winstone), and a female version of the ferocious Taskmaster (Olga Kurylenko) as well as previously introduced legends such as Army Gen. Thaddeus "Thunderbolt" Ross (William Hurt).
Under action highlights, look to Black Widow's first close-combat encounter with Taskmaster; a motorcycle and armored Humvee chase down the streets of Budapest (with a blown-up vehicle sliding into the subway); and a Siberian prison escape by the Red Guardian during a snow avalanche.
As the 24th film in the Marvel Cinematic Universe, "Black Widow" certainly tries hard to keep up with the previous superhero spectacles that are part of the franchise.
Although not as impressive as such blockbusters "Captain America: Civil War," "Guardians of the Galaxy" and "Thor: Ragnarok," the movie still shines due to Miss Johansson's fun chemistry with the cast and the great job crafting a character that has defined her acting career.
Best extras: Viewers get a pair of featurettes (14 minutes in total) that first cover the relationship of the fictional non-biological sisters Natasha and Yelena as discussed by Miss Johansson and Miss Pugh with lots of supplemental gushing about the stars.
Next, we get a too-promotional look at the origin and creation of the movie including topics on locations, stunt work, fight choreography, visual effects and featuring interviews from all of the principal cast, director and crew.
Finally, the disc contains 14 minutes of deleted scenes (nine total) that were wisely excised, including what appears to be an alternate ending in which Natasha revisits Ohio, as they offered nothing to enhance the final cut of the movie.
What would have been appreciated was an extended spotlight on the origins and creation of Black Widow from comics to film.