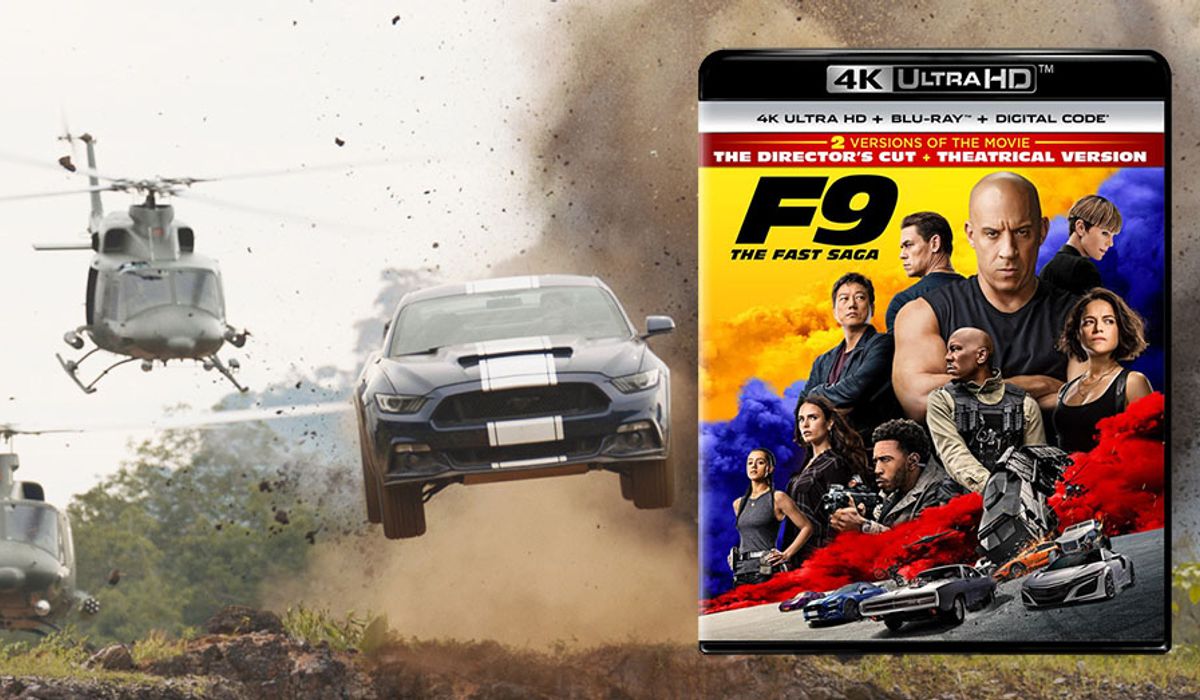 The Fast and Furious franchise's latest blockbuster offered the ninth movie in the series this summer with a successful release to theaters worldwide, while still in the midst of a pandemic no less.
Director Justin Lin's extreme action film now exists in the ultra-high definition disc format in F9: The Fast Saga (Universal Pictures Home Entertainment, rated PG-13, 2.39:1 aspect ratio, 149 minutes, $49.98).
In the story, intelligence officer Mr. Nobody's (Kurt Russell) plane goes down after a successful escape attempt by arch-villain and cyberterrorist Cipher (Charlize Theron), and a familiar ragtag team of former street racers and covert ops specialists get back together to find their friend and stop a plot to control the world through its computer systems.
Led by Dominic Toretto (Vin Diesel), the group — including his wife Letty Ortiz (Michelle Rodriguez), sister Mia Toretto (Jordana Brewster), racer Roman Pearce (Tyrese Gibson), mechanic Tej Parker (Chris Bridges) and hacker Ramsey (Nathalie Emmanuel) — go on a hunt around the world as they also try to find the pieces of the hacking system called Ares to stop Cipher and her boss Otto (Thue Ersted Rasmussen).
Life gets more complex for the team when Dom's estranged younger brother and now rogue agent Jakob (a grim John Cena) shows up to steal the goods, and now it's a sibling battle while viewers also get a dose of flashbacks to learn of their brothers' younger years and relationship.
As expected, viewers get a popcorn-munching, heavy dose of high-speed shootouts, more explosive crashes of every shaped vehicle, dizzying close-quarters combat and more high-performance sports cars performing physics-defying feats of magic referenced for example in a car swinging from a rope on a broken bridge to cross a chasm.
However, fans of the series will note the more serious tone of this film, with a brooding Dominic dealing with his brother issues sometimes overwhelming the humor that is more standard for many of the Fast and Furious films.
I also missed the banter of other pivotal characters missing in the series such as Luke Hobbs (Dwayne Johnson) and Deckard Shaw (Jason Statham).
Owners also get two cuts of the film on the 4K disc — a theatrical cut (143 minutes) and a director's version with an additional six minutes of exposition focused on character relationships.
4K in action: Cinematographer Stephen F. Windom's warm visual presentation combined with high dynamic range enhancements provide some stunning views for armchair travelers as well as car enthusiasts to inspect some slick vehicles.
Specifically, the team travels to places in and around the Caspian Sea, Tokyo, Cologne, London, Edinburgh; and even drives through a field of landmines in the jungles of the fictional Montequinto; and executes a head-shaking, magnetized, high-speed chase in Tbilisi.
A staple of the franchise, vehicles also shine. Feel free to inspect with a stop on the controller such powerhouses as Dom's glistening 1970 Dodge Charger Tantrum Charger, count every rivet on a Pontiac Fiero strapped to a rocket engine or admire the purple Noble M600 (hand-built British sports car) that, even in a nighttime chase, spotlights its bright yellow running stripes.
Additionally, the detail throughout the action scenes is exceptional down to smoke plumes from explosions and kicked-up dirt from speeding vehicles that home entertainment room owners may need to vacuum after a viewing.
Now add a Dolby Atmos sound mix, and viewers get an aural assault commensurate with a high-octane action flick.
Best extras: Loaded up on the 4K disc is also an exhaustive collection of supplemental content sure to please fans.
Let's start with an optional commentary track for both the theatrical and director's cut of the film.
Mr. Lin, also the writer and producer, touches on many facets of the creative process and execution such as the story's theme of family; his excitement to return to the franchise (he last directed "Furious 6" back in 2013); working with a 3-year-old (that were scarier to direct than the massive stunts); why scenes were restored in the director's cut; shooting in Thailand; the importance of practical effects; and his hope to explore Jakob's story in future films.
Next, dive into a nine-part, 46-minute documentary that explores the overall franchise with plenty of clips from previous films.
However, it mainly covers the current movie production with topics including lost brother Jakob; dangerous locations; practical effects challenges in jungles; character evolution; fight choreography; and interviews with all key cast and crew complimenting each other on their amazing efforts.
Finally, another five featurettes round out the goodies spotlighted by four minutes with Mr. Cena introducing some of his favorite vehicles in the movie; 10 minutes on the set with the director (he sleeps three hours a night during productions); and eight minutes on some of the eye-popping vehicular stunt work.