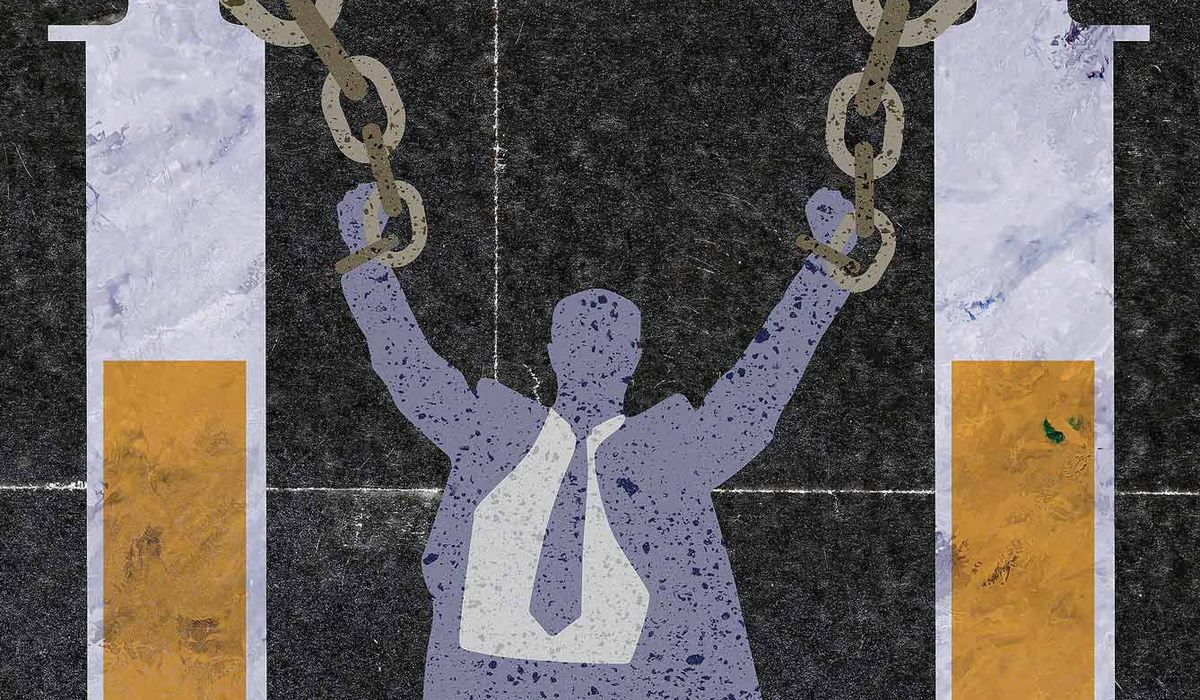 ANALYSIS/OPINION:
"No, I don't think [vaccines] should be mandatory. I wouldn't demand it be mandatory." President Biden said last year.
Vaccine mandates are "not the role of the federal government," White House press secretary Jen Psaki said in July.
"So — so here is the thing. We are — we cannot require someone to be vaccinated. That's just not what we can do. It is a matter of privacy to know who is or who isn't," House Speaker Nancy Pelosi said in April.
They all lied. Last month, the Biden administration said U.S. companies that employ more than 100 people would be required to ensure their workforce is vaccinated or face fines of almost $14,000 for each violation if they didn't comply.
As the U.S. faces a severe worker shortage, a supply-chain crisis, and rising costs at the pump and in the grocery store, this is the exact wrong policy prescription. Vaccine mandates have the potential to cripple our travel and health care industries, increase crime rates in our cities, and weaken our educational system.
Southwest Airlines had to cancel thousands of flights this weekend and is weighing more cuts in the coming months because, as the company had to admit on Monday, it's short-staffed. There was speculation the airline had an excess of sick calls this weekend tied to a federal vaccine mandate Southwest plans to implement this fall. Southwest's pilot union has denied the claim.
Still, there's reason for the speculation. Last month, the union representing American Airlines, the Allied Pilots Association, said Americans may encounter staffing issues as the holiday season approaches because of the vaccine mandate.
"Some of APA's members are unable to undergo vaccination for documented medical reasons, while others are reluctant to get vaccinated based upon concerns about the potential for career-ending side effects," the APA said in a letter. "To force those pilots out of their positions, rather than offering viable alternatives will have adverse consequences upon their families and the airline industry as a whole."
Good luck flying home for Christmas.
Our health care system may also come under duress. Mr. Biden has basically told our nation's 17 million health care workers to get vaccinated or get out. Pam Goble, the owner, and CEO of Ability HomeCare, a pediatric home health care agency in San Antonio, Texas, told NPR she's concerned her unvaccinated employees may refuse to comply with the mandate.
"We would have to let people go," Ms. Goble told NPR. "I worry if our patients, who are medically fragile children, are going to get the care they need."
Lewis County General Hospital in upstate New York said it would stop delivering babies last month after six people in its maternity department quit over New York's vaccine mandate.
A recent American Association of Critical-Care Nurses survey said 66% of the 6,000 critical care nurses polled said they had considered leaving their jobs because of the COVID-19 pandemic. The mandates may exacerbate that number.
"The thing is, if nurses decide to leave the profession in the numbers that say they might, it would bring our health care system to its knees," Amanda Bettencourt, AACN president-elect, told Salon last month. "You wouldn't be able to get care for lots of things that you need, whether it's your health emergency or your loved ones' health emergency, and critical care nurses are not easy to replace because it takes at least a year past their academic training for a nurse to have the skills and knowledge to take care of critically ill patients."
A police union in Massachusetts has warned of troopers submitting their resignations ahead of the state's vaccination mandate. This, as the Massachusetts police squad, is already critically short-staffed. In Leesburg, Virginia, officers are also protesting the mandate.
"This decision has the potential to decimate LPD. Our town could lose a lot of amazing police officers," Leesburg Police Department employee Josh Carter told the local CBS affiliate this month.
Teachers, too, are feeling the squeeze.
After New York State's vaccine mandate went into effect last month, 8,000 public education employees have been placed on unpaid leave for refusing to comply. A large number of less qualified substitute teachers will be used, and some school systems will have to switch from serving hot lunches to offering grab-and-go options because of a lack of cafeteria aides, the New York Times reported. A group of teachers have sued, and their case will be heard by the U.S. Court of Appeals for the Second Circuit on Oct. 14th.
To all of these workers – stay strong. Hold the line. Challenge these unconstitutional and draconian vaccination mandates. Make the Biden administration feel the pain for desperately instituting them after they said they wouldn't. You were on the frontlines battling COVID-19, and now you are on the frontlines of defending our liberty. God bless you.
Things will get worse before they get better, for all of us, thanks to Joe Biden. We must take a stand and fight back. Together. The China virus rebellion has begun.
• Kelly Sadler is the commentary editor at the Washington Times.