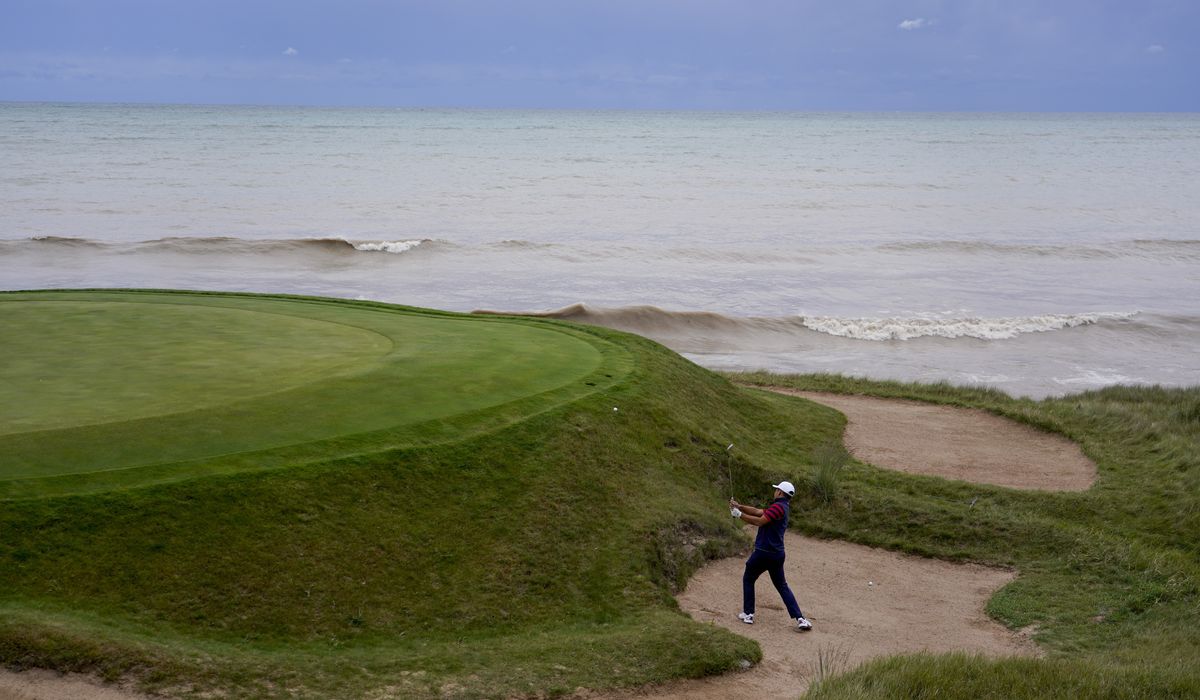 SHEBOYGAN, Wis. — The late, great Pete Dye had a ready reply whenever critics screamed one of his course designs was over the top.
"Golfers," Dye scoffed, "would play Mount Everest if somebody put a flag on top."
So when the world's best gathered for the 2004 PGA Championship and cast a wary first glance across Whistling Straits, a humpy, bumpy, weather-worn stretch of terrain hard by the Lake Michigan shoreline, he predictably waved off concerns this was the one course that might actually be too tough.
"This will be nothing but a bag of popcorn," Dye assured course owner Herb Kohler at the time.
But soothing other folks' jangled nerves was not in his nature. "Sometimes," Dye quickly added, "people choke on popcorn."
Englishman Lee Westwood, who will be playing in his 11th Ryder Cup starting Friday, knew that feeling on his first visit to Whistling Straits. His opinion has changed only so much in the intervening years.
"I'd been told there are 10 difficult holes and eight impossible ones," he recalled recently. "I'm still trying to work out which the 10 difficult holes are."
The 43rd Ryder Cup, which opens with two days of best-ball and alternate-shot matches and concludes Sunday with a dozen singles competitions, is one of golf's few match-play events and may well be its most pressure-packed. There's no prize money on the line, just a slim, antiquated gold trophy that resides, along with bragging rights, on one side of the Atlantic Ocean for the next two years. Some years, between chunked chips and missed putts from gimme range, it resembles a clinic in choking. The same golfers who routinely shrug off their own failings fall apart at the thought they've let teammates down.
The home team opens play with two considerable advantages. The first is a partisan crowd, likely to be an even bigger edge this year because of restrictions on Europeans traveling to the U.S. due to the pandemic. The second is setting up the golf course. What remains to be seen is whether the U.S. team chose the right course in the first place.
Whistling Straits will be played at 7,355 yards, already a boon for the long-hitting U.S. squad, and the rough will be trimmed to a maximum of four inches, making it easier to find and recover from wayward tee shots. The 29 black-faced Scottish sheep imported by Kohler to roam the grounds shortly after the course opened in 1988 have been moved to a nearby farm for the length of the tournament. All the trimming chores this week will be handled by mowing tractors.
"We're not protecting par," said Chris Zugel, head of golf course maintenance at Whistling Straits. "The rough that they'll be playing out of is fairly similar to what you'd find on your local golf course."
What you won't find at most courses are the north-northeast winds that roll in on the waves off Lake Michigan and sweep across the two-mile stretch of land at speeds routinely topping 25 mph. Unless, like the European pros, you grew up playing, and still compete often, on the windswept seaside courses popular up and down the coasts of the United Kingdom and Ireland where golf was first played.
Like those links, Whistling Straits has few trees and is exposed to the elements. The vast greens, grass-topped dunes and deep pot bunkers that dot the course — numbering around 1,000 at last count — will look comfortably familiar, too.
"Amazing that this golf course is man-made," European vice captain Graeme McDowell marveled, "because it just looks like it's been there since the beginning of time."
The strong breezes could provide the visitors with yet another reminder of home. But European captain Padraig Harrington was hedging his bets, in case the winds forecast for the weekend fail to materialize.
"No, we're not depending on a windy week at all. I think my guys are good enough anyway if there was no wind," Harrington said. "They're familiar with playing golf around the world, and their quality of their ball-striking is right there."
But the traffic hasn't been heading in only one direction. Jordan Spieth pointed out that most of the top players have had to adapt their games to varying conditions on courses around the globe.
"We had Americans finish one-two at the Open Championship this year," Spieth said, modestly leaving out the fact that he was runner-up to current teammate Collin Morikawa in that event, played at Royal St. George's on England's Kentish coast.
"I don't really think that it makes that much of a difference on the style of course. It's tough and fair, and if we see it in some colder, windier conditions," Spieth said, "it could be a unique test."
Which is exactly the way Pete Dye designed it.
Copyright © 2021 The Washington Times, LLC.