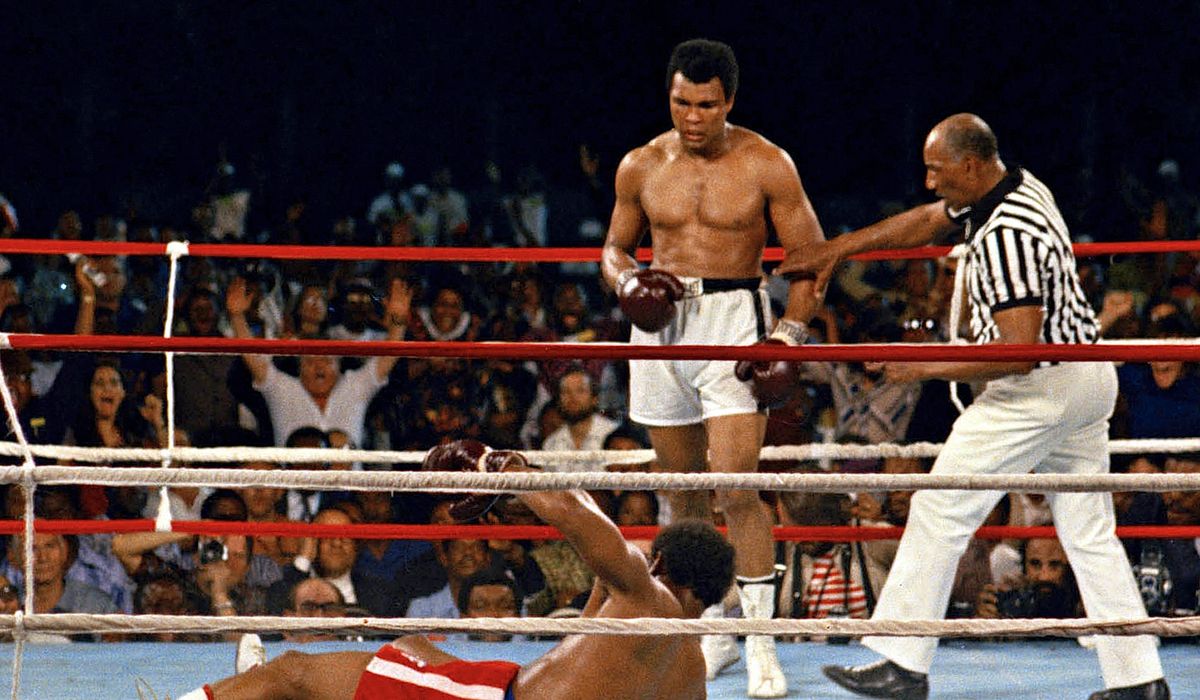 It was the place where Elvis Presley, Frank Sinatra, Andy Warhol, Sylvester Stallone, the Jackson Five and many other celebrities came to watch Muhammad Ali work and hold court.
No, it wasn't Las Vegas. The champ's "Fighter's Heaven" was a mountain hideaway in central Pennsylvania.
The four-part Ken Burns' documentary that aired recently on PBS featured some footage of the training camp Ali built in the early 1970s in the coal country outside Pottsville just off Route 61 on Sculps Hill Road.
It was the place where Ali prepared for war — and it was the place where he found peace.
"The best times I had were up at Deer Lake," said Pat Patterson, a former Chicago police officer who worked as Ali's bodyguard, in "Muhammad Ali: His Life and Times," the book by Thomas Hauser.
"It was like we had our own little village. Everybody got to be themselves, the family really came together. We'd sit there, talking about whatever crossed our mind. And believe me, it was very special to have those moments with Ali. The rest of the world saw the fights and the glory. But we were there at six o'clock in the morning, when he came back from running with ice under his nose. We laughed with him at night, shared good times and bad."
From 1972 until he retired in 1981, there was no place more important to Ali or central to his career than "Fighter's Heaven."
In his biography, "The Greatest," Ali called his Deer Lake camp "the best fighter's camp in heavyweight history. I'm more at home up here with my log cabins than I am in my house in Cherry Hill." (Ali's New Jersey home).
George Dillman, Ali's martial arts trainer and friend who would later purchase the camp after Ali retired, said, "When Ali found out he got Parkinson's, he came up here to stay for a while, to be alone."
He wasn't alone often there.
"We had a bunch of people up there," said Gene Kilroy, Ali's friend and adviser who found the land for the fighter to build his training camp. "Tom Jones came up and sparred with Ali, did a little fun thing. Mike Douglas did a show from there. David Frost did a show there."
And then there was Elvis.
Ali once told a story about how he and Elvis snuck into a local bar and Elvis ran on the stage to sing a quick verse of "Hound Dog." Then they ran out of the bar together. "Champ, I've never done that before in my life."
Then there was the time Elvis called talk show host Mike Douglas at Ali's camp. "We were all sitting in the kitchen once, with Ali and Mike Douglas, when Elvis called," Dillman said. "He called because he heard Mike was up at the camp and he wanted to apologize because the story had gotten out that Elvis had shot out his television set while the Mike Douglas Show was on. He wanted to let Mike know that he wasn't mad at him. He was mad at a guest on the show who had said something about Elvis."
There was boxing that took place. Young fighters like future heavyweight champion Larry Holmes, who was Ali's sparring partner, and future welterweight titleholder Sugar Ray Leonard trained at the camp, which featured multiple cabins for friends, family and fighters, plus the large gym and the dining hall, 18 buildings in all.
Giant boulders lined the camp with the names of famous fighters — Jack Johnson and Rocky Marciano among them — painted on them by Ali's father, Cassius Clay, Sr.
This was where Ali trained for some of his biggest fights – his legendary battle with George Foreman in Zaire and his historic Thrilla in Manila fight against Joe Frazier.
Though the camp hosted a Who's Who of celebrities, what was special were the connections Ali made with local residents from Pottstown to Reading. He would go into these small towns for dinner. He became a CB radio buff and talked to truckers as they drove by on nearby Interstate 78.
Kilroy said the locals embraced Ali, because he touched so many of them. "I remember one time on a nice hot summer day, a little boy was there, he had a skull cap on," Kilroy said. "He was there with his dad, and Ali was training. The boy had cancer and he asked if he could get an autograph with Ali. I told him come on back and meet him. So we go back and it's just me, the dad and the little boy in the room.
"Ali asked the little boy, 'Why do you have a skull cap?' The boy said, 'I have leukemia.' He took the cap off and he was bald. Ali told the boy, 'I'm going to beat George Foreman, and you're going to beat cancer.' The little boy said thank you. I had a camera and took a picture of the three of them together. I still have the picture.
"I got the little boy's address, and Ali signed it, 'Johnny, I'm going to beat George Foreman and you're going to beat cancer.' I mailed it to the father. Two weeks later he called me and said my son is [in the hospital] and he is not going to make it. I just wanted to call and say thanks.
"I told Ali this story, and he said after workouts tomorrow morning, we will go down to see the boy," Kilroy said. "So we get up about 4:30 a.m. and he does his roadwork and showers. We head down to the University of Pennsylvania Hospital in Philadelphia. He was talking on the way down how lucky we are with our children, you never know, you meet somebody and everybody have problems. We are blessed.
"So when we get to the University of Pennsylvania," Kilroy said. "I had the room number, we went up to the room. The kid said, 'I knew you would come.' Ali said, 'Remember I told you I was going to beat George Foreman' and the kid said, 'No Muhammad, I'm going to meet God and I'm going to tell him I'm a good friend of yours.' We all choked up. Nothing was said on the drive back.
"Four days later, the father called and said my boy died," Kilroy said. "I just want to thank you. He lived about 45 minutes from the camp. I said Muhammad, the boy died. I went to the viewing, and in the casket, they had that picture with Ali's words, 'I'm going to beat George Foreman and you're going to beat cancer.'"
The presence of Ali is still felt throughout our culture, illustrated by the Burns documentary. It still resonates worldwide — especially in Deer Lake, Pa.
You can hear Thom Loverro on The Kevin Sheehan Show podcast.