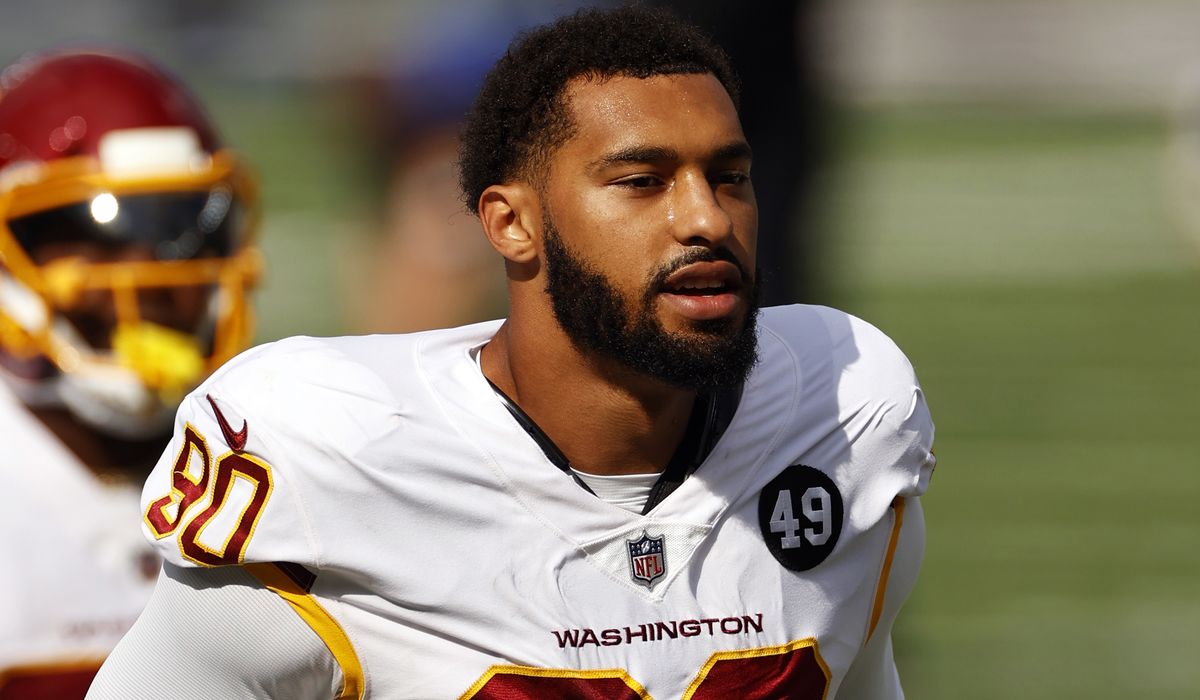 ASHBURN, Va. — Across sports, leagues and teams across sports have encouraged athletes to get vaccinated against COVID-19, and the Washington Football Team is no exception. This week, the NFL franchise held a video conference with a renowned immunologist to answer players' questions and quell their concerns.
But officials found that a football team, like just about other slices of American society, will have some folks who don't want the shot.
In a nation where 43% of the population is vaccinated and the federal government is pushing to reach herd immunity, the sports industry overall has done better than most.
In Major League Baseball, 20 of 30 teams have hit the 85% threshold the league required before virus protocols could be relaxed. In the NBA, Commissioner Adam Silver said in late April that 70% of players had received at least one shot. The league hasn't had a positive test in more than two weeks. Although wide-ranging concerns remain over the upcoming Olympics in Japan, athletes for the most part seem ready. Officials say 80% of those who have qualified for the Tokyo Games are vaccinated.
The vaccination rates in sports are higher than average even without mandates from the four major U.S. leagues or the Olympics. Instead, the industries have relied on education, encouragement and incentives.
Still, there is skepticism about the COVID-19 shots in locker rooms, gyms and training facilities around the world. Some have spoken out about their refusal to get shots. Others have been reluctant to say one way or another whether they have been vaccinated.
"The whole issue of vaccine hesitancy poses a public health problem," said Dr. Nathan Stinson, director of the Division of Scientific Programs at the National Institute on Minority Health and Health Disparities. "We see hesitancy not just with COVID-19, but we also see it with other vaccinations as well. … The trust in the vaccine is improving, but it's still at a level we think is too high."
Vaccination campaigns can go only so far. Washington defensive end Montez Sweat appeared unconvinced after hearing from Dr. Kizzmekia S. Corbett, an immunologist who spoke to the team this week.
Sweat said he was "not a fan" of the information push, even if Dr. Corbett, a research fellow in the Vaccine Research Center of the National Institute of Allergy and Infectious Diseases, played an instrumental role in helping develop the Moderna vaccine.
"I probably won't get vaccinated until I get more facts and stuff, but I'm not a fan of it all," Sweat said Wednesday.
He said later, "I haven't caught COVID yet. I don't see me treating COVID until I actually get COVID."
Sweat isn't the only sports figure weighing his options. Tennis star Novak Djokovic said in April 2020 that he was "opposed to vaccination" and wouldn't want to be forced to take the shot. He caught the virus two months later. Last month, Djovokic doubled down and said he hopes the vaccine won't be mandated because he believes in "freedom of choice."
In the NFL, Lions tackle Taylor Decker said he wouldn't get the vaccine because "I have my reasons." Many NFL players have shared anti-vaccine memes and posts on social media. Among them was former Washington quarterback Dwayne Haskins, who was fined twice for breaking coronavirus protocols.
Some keep their vaccination status to themselves. NBA star LeBron James repeatedly sidestepped questions about whether he had taken the vaccine. He told reporters it was a private matter. Buffalo Bills quarterback Josh Allen took a similar approach.
Vaccine hesitancy, of course, goes beyond sports.
The pace of vaccinations in the U.S. has fallen from 3.4 million people a day to about 1 million, putting in danger President Biden's goal of having at least 70% of Americans vaccinated by July 4.
Dr. Stinson said younger people, in particular, "have come to the forefront" of those unwilling to get vaccinated. He said new cases are growing fastest now among 18- to 24-year-olds.
Sweat, coincidentally, is 24.
"There are a lot of different reasons why individuals won't or are not interested in or are hesitant to take a vaccine," Dr. Stinson said. "Some are more amenable to change than others. … There might not be anything you can do to change their minds."
Washington coach Ron Rivera said Wednesday that he estimates that nearly 50% of the team's players are vaccinated, but all the team's coaches and other employees are fully vaccinated. Vaccinations are optional for players, but coaches and employees who wanted to interact in person with players regularly had to get shots.
Coaches and regular employees got the NFL's stick, but players are still being courted.
The NFL and other leagues have tried to help players see the advantages that come with being vaccinated, including lower risks of infection, hospitalization or death from COVID-19.
Incentives the leagues have offered run the gamut from getting rid of masks and social distancing rules for those who get vaccinated to relaxing restrictions on how players spend their personal time while on the road. In baseball, teams that don't have at least 85% of players, coaches and staff vaccinated aren't allowed to eat inside restaurants.
Still, some teams are having trouble hitting the vaccination threshold. Chicago Cubs outfielder Ian Happ, the team's union representative, told The Athletic that the club was unlikely to hit the 85% mark by the end of the season.
"Maybe it's a problem in some people's eyes if we don't get vaccinated, but this is the group we have," Cubs manager David Ross told reporters. "These are the choices these guys have made. And I'm here to win baseball games with these guys. That's all I have control over."
There have been unintended consequences for athletes who are not fully vaccinated.
At the PGA's Memorial Tournament in Ohio last weekend, Spanish golfer Jon Rahm was forced to withdraw after testing positive despite holding a six-shot lead on Saturday. The withdrawal arguably cost Rahm $1.6 million, the prize for winning the tournament. Last fall, before vaccines were readily available, the Denver Broncos were forced to play a game without their usual quarterbacks because of a positive test and subsequent contact tracing.
On Thursday, Rivera said he would continue to speak with Sweat to try to change his mind. But what if the defensive end, who reportedly had a heart condition diagnosed before the 2019 draft, refuses to get a shot?
Rivera said he has no choice but to accept the decision.
" I'm not going to go at anybody and degrade them because they have a difference of opinion," Rivera said. "The young man has to make his own decision, and whatever his situation is and circumstances are, he has to live with those circumstances."