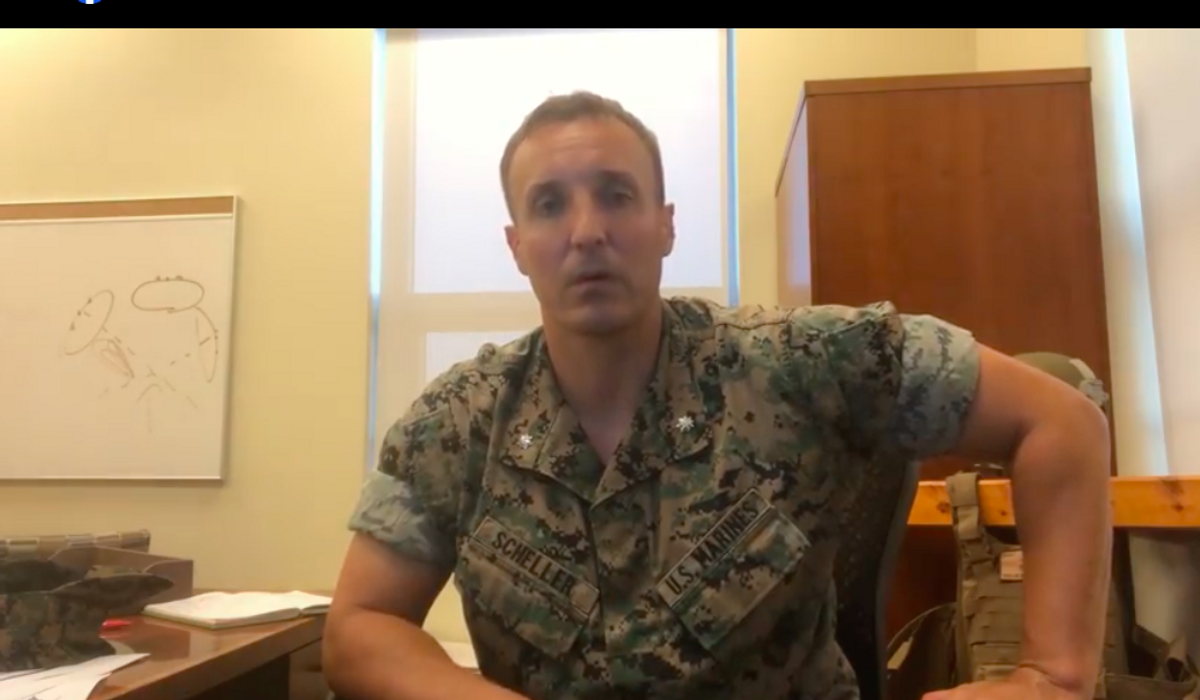 The Marine Corps said Wednesday it was moving ahead with plans to court-martial Lt. Col. Stuart Scheller for his outspoken and viral criticisms of how the top brass handled the Afghanistan War and its chaotic ending, brushing aside a groundswell of popular support for Col. Scheller that included a large number of lawmakers on Capitol Hill.
The Corps confirmed that prosecutors will lay out six charges next week when Col. Scheller's trial begins inside a courtroom at Camp Lejeune, North Carolina. A 17-year veteran with multiple combat tours in Iraq and Afghanistan under his belt, he has been charged with several offenses in the Uniform Code of Military Justice for going public with his scathing comments about his superiors.
The lieutenant colonel is accused of contempt toward officials, disrespect toward superior commissioned officers, willfully disobeying a superior commissioned officer, dereliction of duty, failure to obey an order and conduct unbecoming an officer.
Col. Scheller was released Tuesday after spending about a week in the brig even before charges were filed. He was said to be "doing great" and was "energized by the support of rank-and-file Marines," according to a source familiar with the case. He has been inundated with messages from fellow combat veterans who support his demand for accountability, the source said.
The charges, which were filed after the Corps reportedly refused to let Col. Scheller voluntarily resign from the service, stem from several social media messages this summer in which Col. Scheller offered stinging rebukes of government and military leaders over the nation's Afghanistan policies. He called for resignations from top Pentagon officials and dereliction of duty charges against Gen. Frank F. McKenzie Jr., commander of U.S. Central Command.
When his commanding officer ordered him to quit, the lieutenant colonel went on the web to talk about that as well.
In a Sept 2 Facebook post, Col. Scheller said the "system" needed to be broken apart and rebuilt. The experience showed him how hungry Americans are for "honesty, accountability and reform" across the government.
"We need fresh blood and perspective. It's time for a new generation to assume American power," he said. "Follow me, and we will bring the whole [expletive] system down — in a constitutional manner — with one loud voice."
Col. Scheller's first video was posted shortly after a suicide bombing at Hamid Karzai International Airport in Kabul that killed 13 U.S. troops, mostly Marines, and dozens of Afghan civilians. He was immediately relieved of his assignment as the battalion commander of advanced infantry training at Camp Lejeune.
Despite a reprimand and a direct order to stop, Col. Scheller posted multiple videos and written statements to social media criticizing Republican and Democratic figures for mishaps in Afghanistan.
"Posting to social media criticizing the chain of command is not the proper manner in which to raise concerns," Marine Capt. Sam Stephenson, a spokesman for the Corps' training and education command, said in a statement about the decision to seek a court-martial.
"Orders and directives regulate the conduct of members of our military and ensure good order and discipline."
Several Republican lawmakers rallied to his cause after Col. Scheller was sent to the brig. Rep. Louie Gohmert of Texas called the military's treatment of him "shamefully political and retaliatory."
The social media wars over Col. Scheller's case continued to smolder Wednesday when word of the legal action came down.
"Thirteen U.S. service members killed in Afghanistan during Biden's surrender; 10 innocent civilians — including 7 children — killed by a U.S. drone strike. And yet, [Col. Scheller] is the one facing a court-martial because he dared to demand accountability from military leaders?" Mr. Gohmert tweeted.
The Pipe Hitter Foundation, an organization founded by former Navy SEAL Eddie Gallagher, is helping raise money for the defendant's legal bills, the military publication Stars & Stripes reported Wednesday. Mr. Gallagher's 2019 court-martial on war crimes also became a cause celebre for conservatives. He was acquitted of most charges and allowed to retire as a SEAL chief petty officer after President Trump personally overruled Navy officials and criticized their handling of the case.
Col. Scheller was ordered into pretrial confinement at Camp Lejeune because Marine Corps officials judged him to be a flight risk and believed he would continue to engage in what they considered his "serious criminal misconduct." While in an individual cell, he was not held in what authorities said could be called "solitary confinement."
He was allowed recreational time for at least two hours a day and could talk to other prisoners and staff, although at a social distance under COVID-19 protocols. Prisoners in the brig are afforded all rights and privileges under the Uniform Code of Military Justice, including receiving visits from lawyers at any time, officials said.
"If the generals in charge of the Afghanistan debacle thought a week in an air-conditioned jail cell was going to stop his calls for accountability, they are sorely mistaken," a source close to Col. Scheller said.