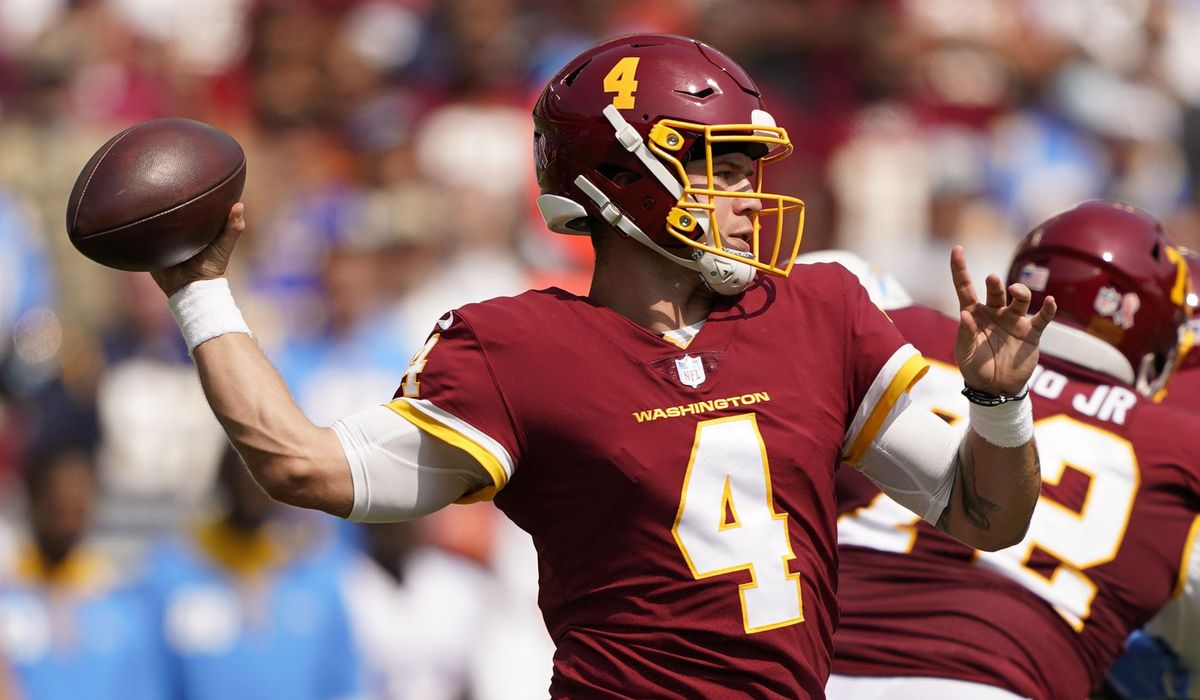 Only in Washington can a backup quarterback become a legend while his team loses.
That's all we've seen Washington Football Team quarterback Taylor Heinicke do — lose. He came in Sunday's home opener against the Los Angeles Chargers when starting quarterback Ryan Fitzpatrick went down with a hip injury with nine minutes remaining in the second quarter.
Washington was down by just one point, 7-6, when Heinicke took the field, And as Heinicke left the field at the end of the game, he left behind a 20-16 loss to the Chargers, already putting the Washington Football Team in a hole this season, with the division rival New York Giants coming to town Thursday night and a monster schedule of opponents to follow.
Yet the Washington Football Team fans that remain — Sunday's crowd was more than 50,000, even if many of those were Chargers fans in blue jerseys — can't get enough of Heinicke,
They chanted his name as he shovel-passed and scrambled his way around the field, creating some offense where it seemed like none existed, despite all the new offensive "weapons" the cheerleaders have told us about going into the 2021 season.
"Heinicke, Heinicke," they cheered, just like they likely did from their living rooms at home in January when he gave the eventual Super Bowl champion Tampa Bay Buccaneers all they could handle, starting in place of a supposedly-injured Alex Smith, completing 26 of 44 passes for 306 yards, one touchdown and one interception.
Still, the Washington Football Team lost that game 31-21.
Didn't stop the legend of Taylor Heinicke.
Fans have clamored for him to get the starting job in Washington, even after the team signed the 38-year-old veteran Fitzpatrick to be their starter. And when Fitzpatrick, after going just 3 of 6 for 13 yards, went down Sunday, and Heinicke came on the field, a buzz went through the Washington fan section of Ghost Town Field.
"It was awesome to hear the fans in the stands cheer," Heinicke told reporters. "Unfortunately, we came up a little bit short."
The buzz went through the sideline as well.
"I think the biggest thing, you see a little bit is Taylor Heinicke's ability to improvise and move on the run," Washington coach Ron Rivera said. "I think that gave (us) a little spark when we needed it. It was good to see."
Heinicke gave them a spark, completing 11 of 15 passes for 122 yards and one touchdown. But again, he didn't give them the win.
The other quarterback, Chargers starter Justin Herbert — their first-round pick in the 2020 NFL draft and sixth overall — gave his team the win Sunday, carving up the overhyped Washington defense for 337 yards, completing 31 of 47 passes and one touchdown. His offense converted on 14 of 19 third-down attempts, tying the record for the most ever made against a Washington defense.
But it's not fair to compare Heinicke to Herbert, a first-round pick in the draft. Heinicke was an undrafted free agent who is on his fifth NFL team, with an XFL stop along the way. He was home finishing his engineering degree last fall from Old Dominion when he was signed by Washington.
No, it's not fair — and that reality is the essence of what will keep Washington from taking the big step from their 7-9 record last year to respectability. They don't have a quarterback to take them there, and they are not close to having one.
Heinicke certainly had his two Washington moments in the sun. But he didn't win. He may be the darling of this damaged fan base that has learned to look under rocks for any hope, but it's time for this franchise to win consistently, not accidentally.
The team's executives have taken steps to do that, with their revamped front office and the additions of general manager Martin Mayhew and vice president of football operations Marty Hurney. And they have upgraded in their coaching with Rivera and his staff.
But they lost Sunday to a rookie head coach whose first-team offense didn't play one down in the preseason. They lost because the Chargers have a quarterback and Washington doesn't.
That will be the mismatch most weeks facing Washington in 2021, whether it is Fitzpatrick, if he comes back, or Heinicke or even Kyle Allen, who will be the starter before the season is out. He is Rivera's favorite quarterback on the roster, the guy who the coach declared could have matched Alex Smith's 5-1 record as a starter last season.
Allen, like Fitzpatrick and Heinicke, is a quarterback. He is not the quarterback. You saw the difference Sunday. You'll see it often in the coming weeks.
You can hear Thom Loverro on The Kevin Sheehan Show podcast.