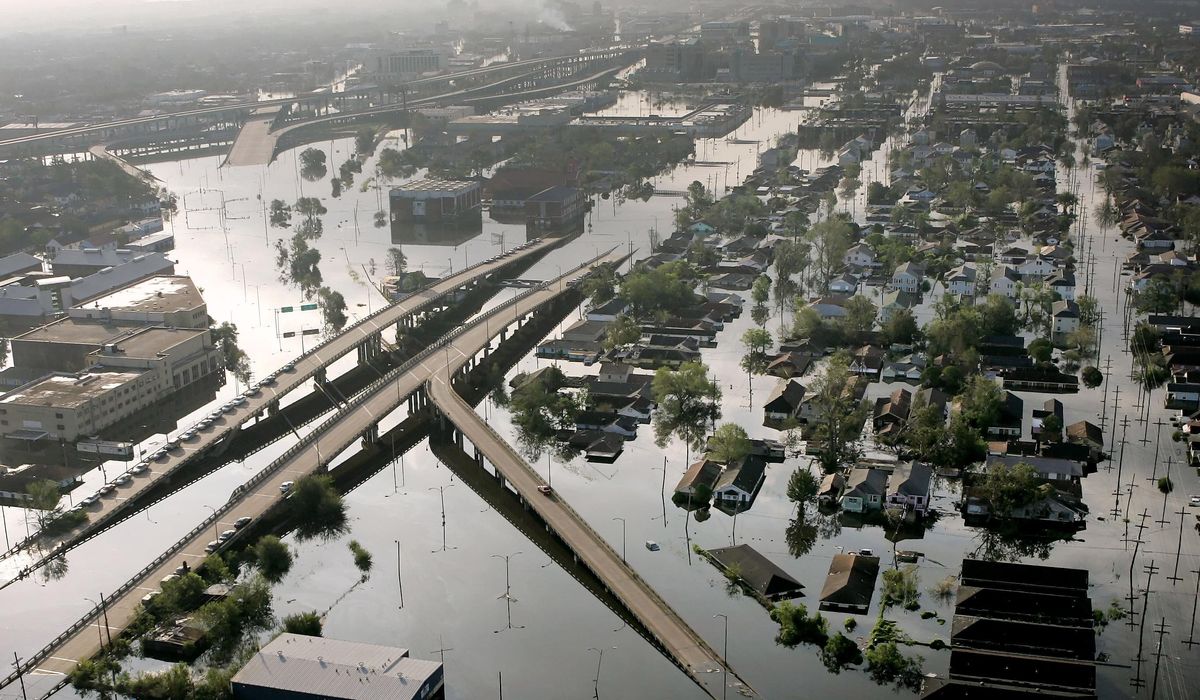 As Hurricane Ida bore down on New Orleans last month, Benjamin Camp wasn't going to risk winding up being stuck in a flooded house, rescued by boat and helicopter, and then flown to some unknown location. Not again.
He took his family to Lawrenceville, Georgia, to ride out this latest hurricane attack on his city.
"We had to leave because of the flooding, the property damage and living without power," Camp said. "We stayed there the night the storm hit, but after going through the first one, especially with kids involved, we weren't going to stay."
Then again, the first one – Katrina – wound up landing Camp on the mound at Nationals Park to throw out the first pitch of the Washington Nationals game against the Florida Marlins in the team's first season here in 2005.
Camp was one of a group of displaced Katrina refugees who landed in Washington after the disaster and were hosted by the Nationals.
Camp, now 36, remembered those strange but special days as he found himself far from home again because of another destructive hurricane.
"I had never been out of New Orleans, and I really didn't expect the world to be as big as it was, people living everywhere," Camp said. "It was different seeing other places and other cultures."
Still a teenager when Katrina hit, Camp had been evacuated to the Superdome with some family members, while his father Clinton and brother-in-law Derrick Jones stayed in the Jones' home.
Camp wasn't at the Superdome for long.
"I got kicked out of the Superdome," Camp said. "I don't think I would have made it to Washington if I didn't get kicked out of the Superdome.
"I got kicked out because it was pure pandemonium at the time," he said. "My sister was pregnant and they were giving out the MREs, the Army meals, I was trying to get a meal for her and myself. They kept saying only one per person. I was trying to explain to them that my sister was pregnant and needs one too."
Security threw Camp out into the storm. He had the keys to his mother's car, which was nearby, and attempted to drive back to their home in the middle of Katrina.
"I remember driving home on the interstate on winds that seemed over 100 miles an hour," he said "The car was shaking. I thought it was going to fly off the interstate.
"I got home, we stayed up for an hour or two. When I woke up, the water outside was six feet high all around us. We stayed there (on the second floor) for seven days hoping the water would go down. They came there every day in a boat asking us to leave but we didn't want to. We were surviving and we just didn't want to leave home. The seventh day they said you have to leave, so we got some belongings and some fresh clothes and left in an airboat.
"They took us to the interstate, and from there we went to a helipad and the helicopter brought us to the airport. We don't know where we are going when we got on the plane. We didn't know we were coming to Washington until we were landing.
"But God works in mysterious ways."
Here is how God worked for Benjamin Camp in September 2005.
The community made them feel welcome in the District, including the Nationals, who invited the refugees to come to RFK Stadium for a series against the Florida Marlins.
For one of those games, Camp was picked to throw out the first pitch.
"It was so big and impressive," Camp said. "We didn't have anything like that in New Orleans (the Nationals Class AAA affiliate that year were the New Orleans Zephyrs).
The Nationals were in the final weeks of a downward spiral of what had been a magical first season in Washington, at one point occupying first place with a 50-31 record (they finished the season 81-81). Camp, his father and brother-in-law watched as Washington took a 12-1 beating from Florida, with John Halama getting the start, one of seven pitchers for the Nationals that day. But Camp has nothing but fond memories of his time at the game.
"Who wouldn't want to throw out the first pitch at a baseball game, especially in the Washington Nationals inaugural season?" Camp said. "That was pretty dope for me.
"The owner (team president Tony Tavares) gave us passes to the owner's box, and we were up there watching baseball every day."
But what made it particularly special was Nationals outfielder Jose Guillen and his agent, Adam Katz.
"Jose Guillen was the one who greeted me," Camp said. "I got a Jose Guillen autographed jersey. And his agent was the one responsible for putting me and my family back together. I'll never forget Jose Guillen."
Camp had no idea where his mother and the rest of his family were. Turns out, they had been evacuated to Houston. Katz tracked them down and arranged for them to reunite with the family.
"It all worked out," Camp said. "We all wound up safe."
It was a tumultuous journey, though, one that Camp, who said he is about to get married, didn't want to risk again with Hurricane Ida, which made landfall in Louisiana with 150 mph winds and has left more than one million people without power.
"Going through that the first time, there was no way I could go through it again," he said.
But it left him a Washington Nationals fan for life. "I love the Nats," he said.
You can hear Thom Loverro on The Kevin Sheehan Show podcast.
New and improved commenting system coming soon.