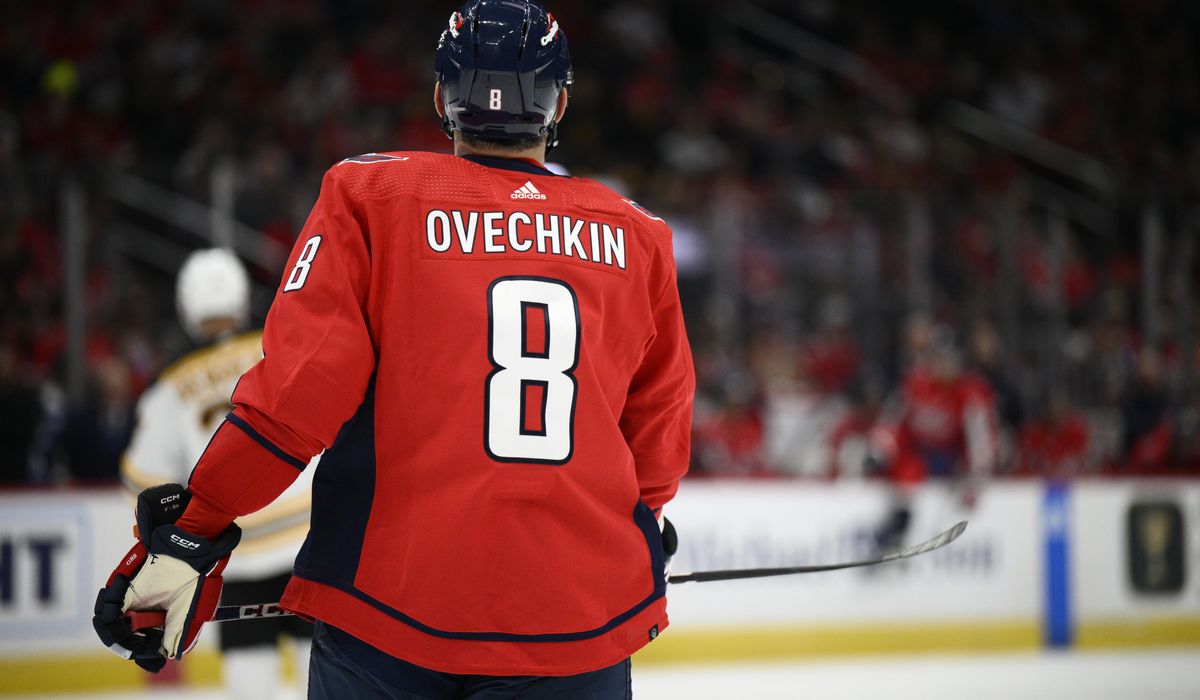 More than 18,000 Washington Capitals fans filled up the Capital One Arena for the team's home opener Wednesday night. They were red, they were loud and they were hungry for some mac and cheese.
Alas, the mac and cheese was cold, as were the Capitals in a 5-2 loss to the Boston Bruins. After dropping their second game of the season in Toronto, the Capitals came back home Saturday night.
Again, more than 18,000 Capitals fans filled the arena — red, loud and hungry for some chicken soup. This time they were satiated, and they left feeling good after a 3-1 win over the Montreal Canadiens.
Feeling good is a rare feeling of late for Washington sports fans.
But the Capitals have become the comfort food for starving DMV sports fans. Everyone else in this town is dishing out gruel — the Nationals (three straight losing seasons and an uncertain ownership future), the Commanders (a meal filled with poison), the Wizards (who start their antacid-filled schedule Friday night), DC United — it's been a sports menu of indigestion all around.
But the Capitals? Beans and rice. Ham and eggs. Mom's meatloaf. The Capitals consistently serve up comfort food in an arena that has become a shelter from the storm of dysfunctional sports franchises. You go there knowing that you don't have to leave with a bag over your head.
There may be some shortcomings for this aging team — the window General Manager Scott MacLellan has talked about for years looks like it is finally closing — but shame and embarrassment? That's not a burden that Capitals fans have to swallow, thanks in large part to the presence of one of the greatest players in hockey history.
Alex Ovechkin is the constant that calms the acid reflux in the stomachs of Washington sports fans. As long as he remains on the ice in Washington, there is a level of respect and competitiveness that makes the world all right — even if the real world itself is a nightmare.
Ovechkin, 37, started his 18th season here in Washington like he ended his 17th season — with the photo of his good pal Vladimir Putin and him side by side on Ovechkin's Instagram account.
That ultimately could leave Capitals fans with a bitter taste in their mouths — especially if the war in Ukraine escalates much further. The president of the United States, who resides just a few blocks from the arena, has said Ovechkin's pal Putin and his threats to use nuclear weapons have brought the world closer to the prospect of "Armageddon."
It might be a little shameful and embarrassing for Capitals fans if World War III were to break out.
But hey, Ovechkin can take comfort in the friends that Putin has accumulated of late — like Tucker Carlson and some of the other American pundits who may be just as popular as Ovechkin in Mother Russia. Ovechkin, for now, has company on Team Putin.
Ovechkin is of enormous symbolic import to Putin. But for Capitals fans, he represents an era of excitement and respectability that began when he arrived in 2005.
These days, he's a good reason to keep showing up at Capitals games, looking for another delicious serving of the Russian's blue-plate special: Ovechkin's pursuit of the NHL's all-time scoring record. It's a menu standby that just gets better and better:
These Capitals may not be a serious Stanley Cup contender. Neither are they the President's Trophy Capitals. Transparent Ted Leonsis' own network, NBC Sports Washington, ranked his Capitals 12th in their power rankings. Sixteen teams in the 32-team league make the playoffs.
But they have been and will continue to be the team that sets the table, night after night, for Ovechkin's history-making bid to chase down Wayne Gretzky and his 894 career goals — a record that at one point seemed unbreakable. Ovechkin's 50-goal season last year put his career mark at 780 goals — within view of Gretzky.
First, Ovechkin has to pass the great Gordie Howe. He is only 21 goals from that mark. That will be an event to celebrate — a good comfort meal.
Then it's the march on Gretzky. It will likely take two seasons and part of a third for that to happen — a process that will require some patience. But Gretzky himself told The New York Times, "There is no doubt that ultimately, he will break the record."
Something could get in the way — like war, for instance. In the meantime, it will be Ovechkin's pursuit of the all-time scoring record that will serve up the chicken and waffles and other comfort food at Capital One Arena.
You can hear Thom Loverro on The Kevin Sheehan Show podcast.