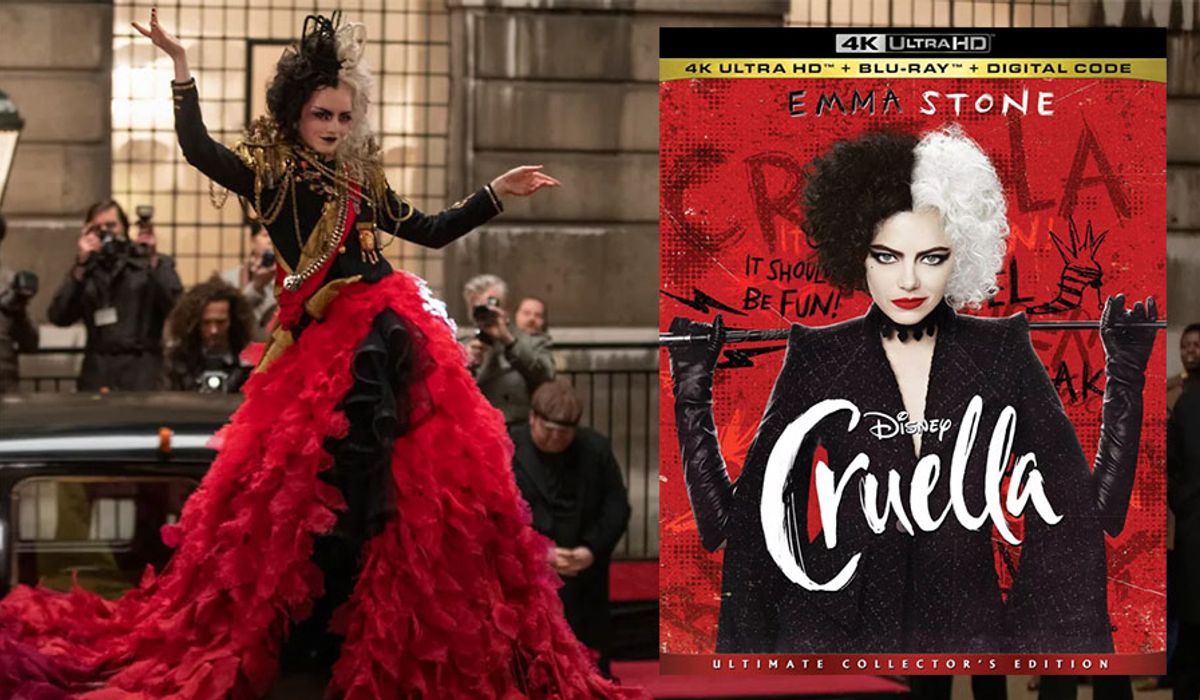 Disney's latest live-action effort to explore the origins of one of its most iconic villains moves from theaters and Disney Plus to 4K disc in Cruella: Ultimate Collector's Edition (Walt Disney Studios Home Entertainment, rated PG-13, 1.85:1 aspect ratio, 134 minutes, $49.98).
Emma Stone stars as Estella Miller, i.e., the budding and villainous Cruella de Vil, as viewers learn of this young grifter's ascension into the world of crime and into the narcissistic depths of the fashion world.
Director Craig Gillespie, along with a feisty script, thoroughly explains her black-and-white streaked hair, her official renaming, her famed vehicle, her deep hatred for Dalmatians, the death of her mother, and her meeting of her two grifting friends and future henchman Jasper (Joel Frey) and Horace (Paul Walter Hauser).
The story adds a clever pivot after Estella's accidental meeting of the high-powered fashion designer Baroness von Hellman (Emma Thompson), who becomes an admirer after the grifter's creative vandalism to a window display at the Liberty department store.
Estella eventually begins working for the Baroness and discovers her talents in fashion design as well as a terrible secret that allows her to embrace the sixth stage of grief — revenge.
Complemented by Miss Thompson's level of viciousness, Miss Stone owns the part and, much more complex than Glenn Close's 1996 version, adds an eagerly amusing depth to the character's evolution.
Equally entertaining, Mr. Gillespie not only plays to his 1970s London retro pop art sensibilities in production design but unleashes on viewers a wicked soundtrack of rock classics.
Younger movie fans are exposed to The Doors "Five to One," Blondie's "One Way or Another," Queen's "Stone Cold Crazy" and the Stooges' "I Wanna Be Your Dog" to name just a few.
4K in action: Culled from a 4K digital intermediate, the crisp and ever-evolving, ultra-high definition, screen-filling presentation showcases a 1970s design of glam rock to punk fashion excess.
Specifically, designer Jenny Beavan's costuming, costuming and more costuming gets finely explored through textures, patterns and colors within near every style and shade.
Her choices, unveiled through an assortment of skirts, dresses, slacks, jackets, blouses, suits and boots, are further highlighted by fur-collared night coats, silky white capes, black leather bodices and even a golden-beaded deco butterfly gown.
As Estella becomes Cruella, the color pallet shifts from more subdued creamier hues to wildly vivid peaking as the character gets engulfed in flames and revealing a saturated red gown topped by her stark streaked hairstyle amid a party of guests dressed in black and white.
Best extras: Viewers get six featurettes on the included Blu-ray version of the film offering 35 minutes on the production and covering the henchmen, costuming, locations in London, set decoration and the cast of dogs.
The best segment is 10 minutes on the transformation of Miss Thompson and Miss Stone into the leading characters, as discussed by both, that also touches on the background of the original Cruella.
Also worth watching is a much-too-short, only four minutes long, comparison of the live-action film to the 1961 animated movie.