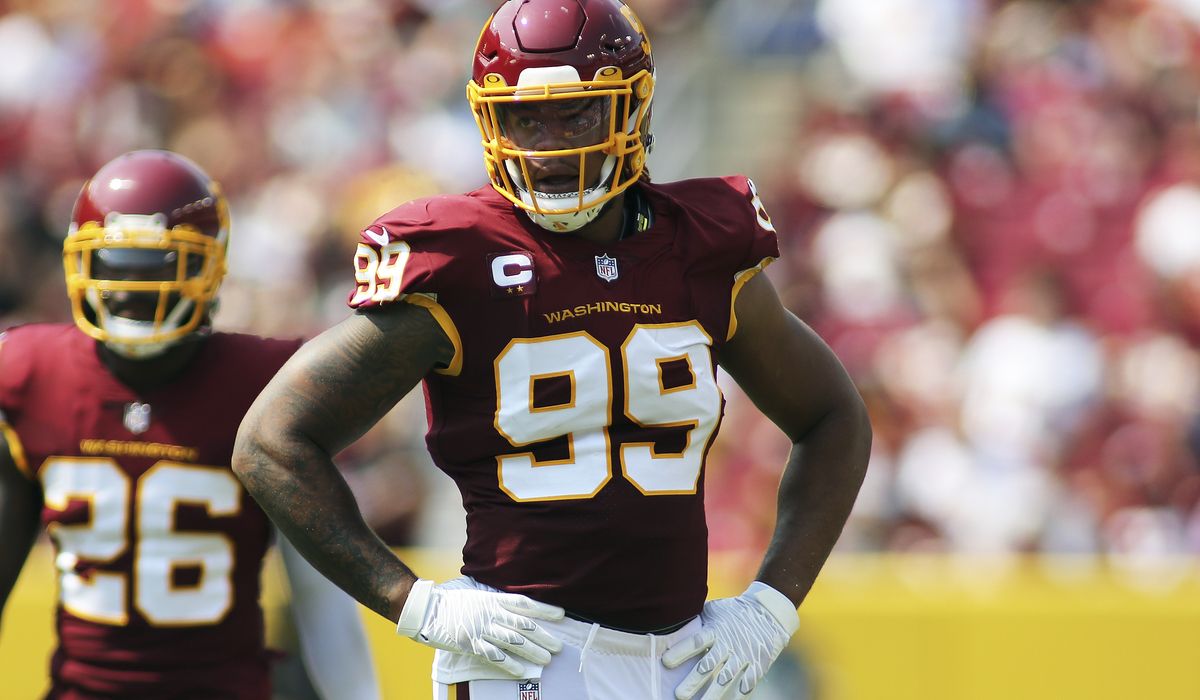 PBS aired a documentary Sunday night about Muhammad Ali, and I'm guessing it didn't spend much time on Ali's fight with a German boxer named Jurgen Blin.
After all, it was a forgotten fight against a forgotten opponent, part of Ali's battle to get regain the title, coming 10 months after his loss to Joe Frazier in the "Fight of the Century" on March 8, 1971.
It was more notable for what went wrong for Ali than what went right. He knocked Blin out in the seventh round but took an unexpected beating along the way.
"The 28‐year‐old West German was a dangerous punching bag who hit back," wrote the great Michael Katz in The New York Times.
This would be a disturbing pattern for the post-comeback Ali — taking too much punishment, even in victory.
Think of the Washington Football Team's win over the New York Giants last week as Ali's triumph over Jurgen Blin — a pattern of too much punishment, even in victory.
If there was anything noteworthy about Ali's fight with Blin, it was what went wrong, not the outcome. And now that the smoke has cleared from the crazy and euphoric circumstances of the final moments of Washington's 30-29 win over the Giants, let's consider why the game might be more notable for what went wrong for Washington than the win.
I get that the NFL is a week-to-week league, and a win is a win, all of it. But the hyped Washington defense is developing a pattern of taking too much punishment.
A Giants offense with a damaged offensive line managed to score 29 points, the most they've put on the board since a 37-34 loss to the Dallas Cowboys on Oct. 11, 2020.
That battered Giants offense managed 391 yards against the Washington defense. What if I told you that the Giants couldn't rack up that kind of yard in any game they played in the 2020 season — even in its two wins over Washington? You have to go back to their last game of 2019, when they rolled up 397 yards in a 34-17 loss to the Philadelphia Eagles.
In Week 1 of this season, the Washington defense was manhandled in a 20-16 loss to the Los Angeles Chargers. The score doesn't reflect the damage done. The 424 yards of offense — by a unit with a rookie head coach and whose starters had not played one down of football in the preseason does — were the most yards by a Chargers offense since Nov. 8, 2020.
Let's go back to Washington's 31-23 loss to the eventual Super Bowl champions, the Tampa Bay Buccaneers, in last season's wild-card game. A Tampa offense – granted a powerful Tampa offense, led by the greatest player in NFL history, Tom Brady — rolled up 507 yards against the Washington defense.
Are you sensing a pattern here?
This conflicts with Washington's overall 2020 numbers — the fourth-ranked defense in the league, giving up an average of just 305 yards per game. But Washington faced Jurgen Blins nearly every week in 2020.
This season they will be facing more Joe Fraziers, George Foremans and Ken Nortons.
Something needs to change. Even coach Ron Rivera has acknowledged that.
"There's too many good football players for us not to play better than what we did today," Rivera told reporters after the win over New York. "That is the big disappointment. They are good football players, but we've got to correct some things and we've got to get a real good look at that."
The coach better be careful about going down that road. If a team has too many good players and is a disappointment … well, before you know it, he'll be looking in the mirror and seeing Jim Zorn.
He is probably right — Washington does appear to have too many good football players, particularly on that celebrated defensive line, to not get this right. Too many people who speak about football with authority have spoken of this Washington defense with awe.
Then again, maybe taking the punishment is just one part of the price of greatness.
"If I had listened to the American boxing authorities who said I shouldn't show up, that he was a pushover, I would have gotten beat," Ali said after he fought the West German.
You can hear Thom Loverro on The Kevin Sheehan Show podcast.