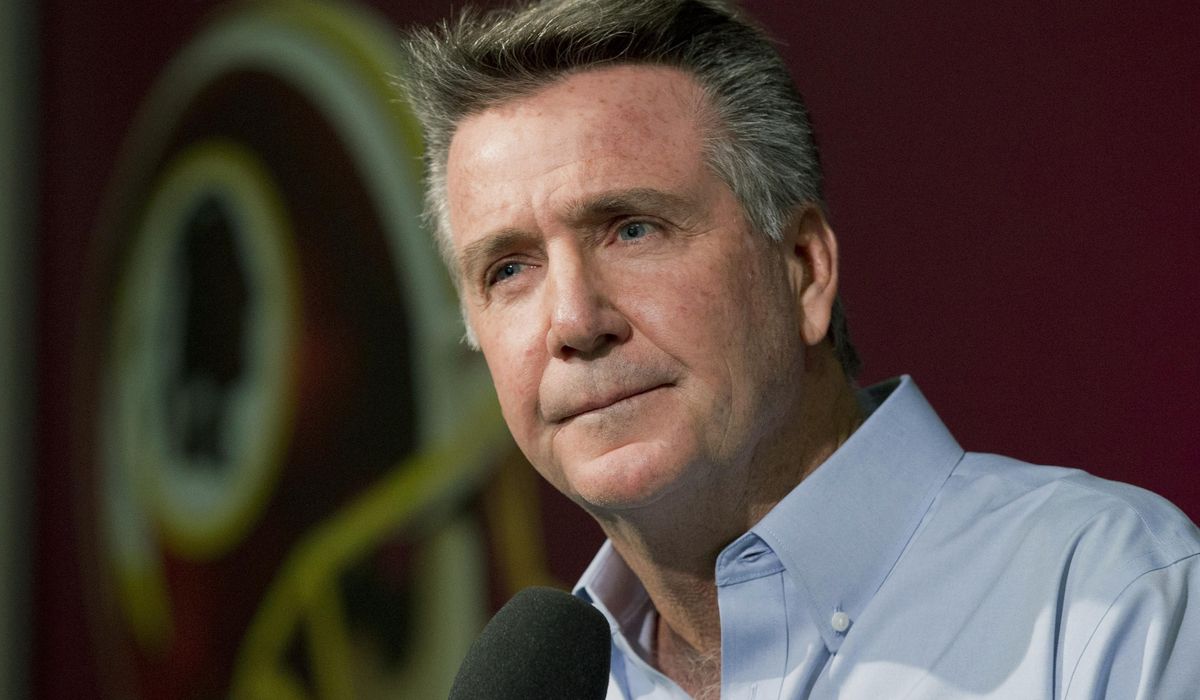 Editor's note: We were waiting for Thom to send his regular game-day column from FedEx Field, but he must have mistakenly cc'ed us on this email he penned to Bruce Allen, former Washington Football Team president and owner Dan Snyder's Putt-Putt buddy. We decided to cc all of you.
FROM: Thomloverro@thewashingtontimes.com
TO: BruceAllen@thenetherworld.com
SUBJECT: Washington Football Team
Bruce — you may be gone but you're certainly not forgotten back here in Washington Football country. I'm sure you know by now they've changed the name of your beloved franchise. I guess you and your electronic pen pal, NFL consigliere Jeff Pash, did all you could to stop that from happening. Maybe it's better you weren't here to see it.
Remember when you took on those Democratic senators who called for a name change in 2014. "The Washington Redskins are one of the NFL's flagship franchises," you wrote to then-Senate Majority Leader Harry Reid. "We have played in 11 NFL Championship games and have won five World Championships. With over 81 years of tradition created by thousands of alumni and millions of fans, the Redskins team name continues to carry a deep and purposeful meaning."
Boy, that seems like two centuries ago.
Those years of deep and purposeful meaning — and, to your credit, those years were real — have over the last two decades been replaced by season after season of shame and embarrassment and disappearing fans. Now they are the team with no name.
You really could dish some (redacted) out, couldn't you, Bruce? No wonder Dan Snyder loved you — until he didn't.
Enough of that. I wanted to write to you because I figured you probably didn't get a chance to see the Washington game Sunday against the Kansas City Chiefs. I'm guessing after the scandal that surfaced about the emails between you and your fascist buddy, Jon Gruden rocked the league office, they must have sent their thugs to your $7 million West Coast fortress of solitude and ripped all the Sunday ticket equipment out.
Here's what happened — Washington lost 31-13 to the Kansas City Chiefs. The Chiefs appeared bored in the first half but regained their interest in the second half to crush Washington. The celebrated Washington defense — anchored by a group of No. 1 picks, some of them yours — gave up 499 yards. This is a weekly occurrence, surrendering near-record yardage.
The offense managed just 276 yards and 13 points, all in the first half. They have a quarterback that you may not have heard of — Taylor Heinicke. I've got to tell you Bruce, he's no "Kurt" Cousins.
"It was a bit of a snowball effect," Washington coach Ron Rivera said. "One bad thing led to another."
Boy doesn't that sound familiar, Bruce?
Enough of the game. They lost. They're 2-4 and about to travel to Green Bay to face the Packers. This is nothing new to you. Your teams had a 62-97-1 record while you were here. Losing on the field? Old hat.
But it happened at the Alumni Game! Your creation! Perhaps the only thing you did right here. I've got to tell you Bruce, they're not winning off the field these days.
They had the team headquarters raided by the DEA two weeks ago and put their trainer and assistant trainer on administrative leave.
Then came the email stories that broke in the Wall Street Journal about some of the racist conversations between you and Gruden about NFLPA boss DeMaurice Smith that put Gruden in jeopardy. It didn't make you look too good either, Bruce. But you don't have a job to lose — and likely never will.
Did Snyder have those emails leaked to take a shot at you? You know, the last time we saw the both of you, you were walking in opposite directions without acknowledging each other in Dallas after a 47-16 season-ending loss. The love was gone.
Then came some more emails between you and Gruden, leaked to The New York Times, that ultimately sealed your buddy's fate. Let me ask you — did you guys wear sheets when you would have these little email sessions?
All this resurrected the anger over the NFL's refusal to share the contents of the Beth Wilkinson investigation into sexual harassment in the organization. One of the many unanswered questions about that — how has your name managed not to surface?
I'm not done.
At the end of the week, the team announced it was honoring the memory of the late, great Sean Taylor — taken too soon in his tragic murder in 2007 — with a ceremony at Ghost Town Field that included renaming a street to honor Taylor outside the stadium and also retiring his number. But they didn't tell the fans about this until the last minute and no one believes that the number retirement was anything more than a botched effort to take some heat off the franchise.
It's something right out of the Bruce Allen playbook — except I think even you could have handled it better. After all, no one knew more about winning off the field than you, Bruce.
I'm sure you know they've got a new team president to replace you on the business side, a former NFL running back and McKinsey suit named Jason Wright. He wrote an apology for the Taylor snafu: "We didn't realize that so many of you wanted to make a trip to FedEx Field to be present for this moment."
Unthinkable! You certainly never entertained the notion that fans didn't want to come to see the team even when more and more of them were disguised as empty seats.
Who could forget you standing there at the team headquarters, with all those (redacted) media coming after you, and you declaring,
"The culture is actually damn good."
To have said that with a straight face meant that you were capable of anything. And we may see more of what you were capable of if more emails are leaked.
For what it's worth, Bruce, the new culture doesn't seem much better.
That's all for now. Write back, Bruce, when you get a chance.
You can hear Thom Loverro on The Kevin Sheehan Show podcast.