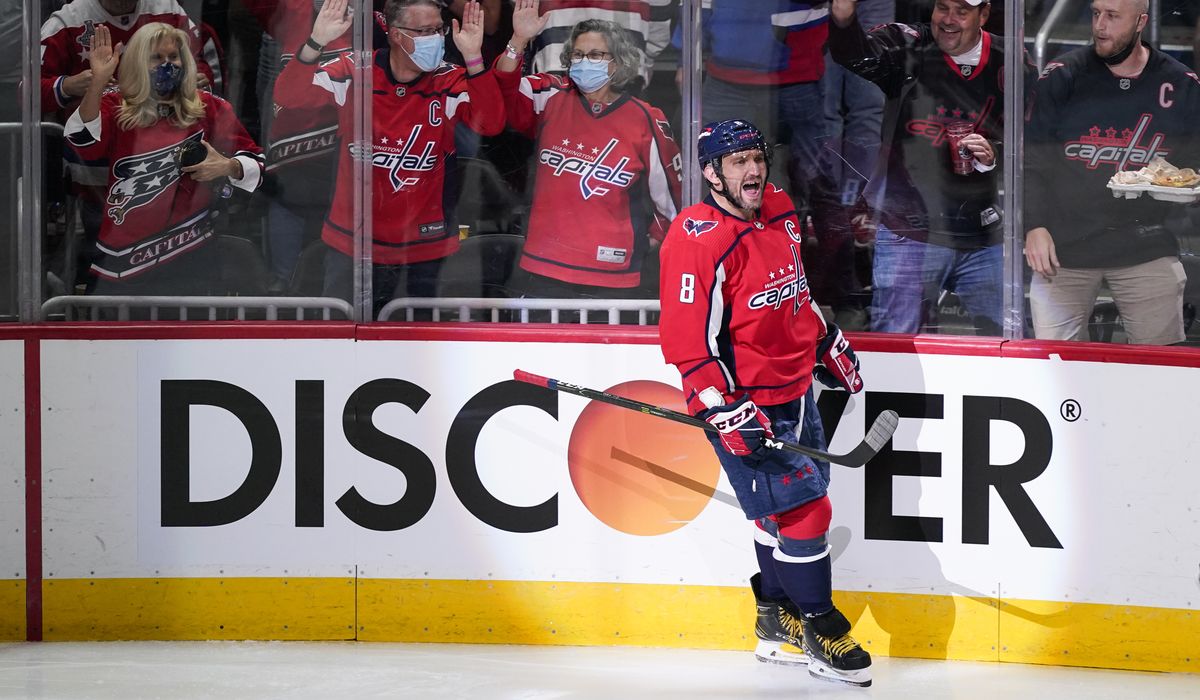 The arena was packed Wednesday night. The crowd was there for the start of the home opener of the Washington Capitals against the New York Rangers. But you had the feeling that the Capitals faithful — sitting there in their red jerseys and seeing the familiar faces of their fellow fans — were going to be happy no matter what, gathered together again, finally, in the arena that has been closed to them since March 4, 2020.
They cheered when their Capitals were introduced before the game, with a particular roar going up when the Great 8 — Alex Ovechkin — skated out on the ice like he has since 2005.
Everything after that was gravy — and there was a lot of gravy, ladles full of it.
It was gravy when T.J. Oshie put Washington on top 1-0 with a first period power-play goal. It was gravy when 19-year-old rookie Hendrix Lapierre scored his first NHL give the Capitals a 3-0 lead, as Oshie grabbed the rookie by the jersey off the ice to celebrate with him.
And there was gravy when Ovechkin scored the final two goals, including a short-handed one, to seal a 5-1 victory. Lots and lots of gravy.
We've seen the Capitals win their home openers plenty of times — 16 of their last 19. But there hasn't been a home opener like this before. There hasn't been a home opener that symbolized more than just the start of a hockey season.
Wednesday night's event at the Capital One Arena felt like a symbol for the return of a normal life. As we battle our way out of the pandemic, we have small moments of normalcy. But this one was shared by a passionate community. You could feel it when retired Sgt. Maj. Bob McDonald passionately pounded out the national anthem before the puck was dropped. And it was celebrated by the 36-year-old Ovechkin's two goals to put the Rangers away — and to make history.
It was a big night — the first game of the new season telecast by TNT. You knew it was a big game when Turner Sports boss Jeff Zucker was there. So was Commissioner Gary Bettman. He brought his muscle with him, NHL senior vice president of player safety George Parros in case there was a spillover from last season's ugly Capitals-Rangers feud.
But there was no blood last night. Only gravy.
"The atmosphere is crazy," Ovechkin told reporters after the game. "I think we were all missing it the last couple of years. It's a totally different feeling when everybody is cheering for you. It doesn't matter what happens, you can still hear the crowd."
The feeling was mutual. The sight of Ovechkin on the ice in a Capitals uniform is perhaps the lone anchor of security for Washington sports fans.
We were once awash in celebrated sports heroes. Now there is only Ovechkin.
Bryce Harper gone. John Wall gone. Max Scherzer gone. Trea Turner gone. Ryan Zimmerman may be done. Everyone is trying to get Bradley Beal to leave. Fans are counting the days until Juan Soto is gone. The Washington Football Team? Don't make me laugh.
Yet Ovechkin remains, for 17 seasons, fired out of a rocket from Russia in 2005 and now firing record-setting goals every time he picks up the stick. He passed Hockey Hall of Famer Marcel Dionne Wednesday night on the all-time goals list, taking sole possession of fifth place with his two goals to give him 731 career scores.
The Great One, Wayne Gretzky and his record 894 career goals, was watching from the TNT studio. Before the game, Gretzky said he thought it would be "great for the game" if Ovechkin could someday break his record.
Washington fans will have a front-row seat to that quest, thanks to Capitals owner Ted Leonsis.
He may have cost the Capitals more chances at a second Stanley Cup following their 2018 championship run by letting coach Barry Trotz pack his bags and leave. But give Leonsis credit — over the summer, he made sure that Ovechkin wasn't going anywhere by signing him to a new five-year, $47.5 million contract.
The deal was announced on July 27. Two days later, the Nationals traded Scherzer and Turner to the Los Angeles Dodgers.
Through recessions, insurrections and vaccinations, Ovechkin remains.
⦁ You can hear Thom Loverro on The Kevin Sheehan Show podcast.