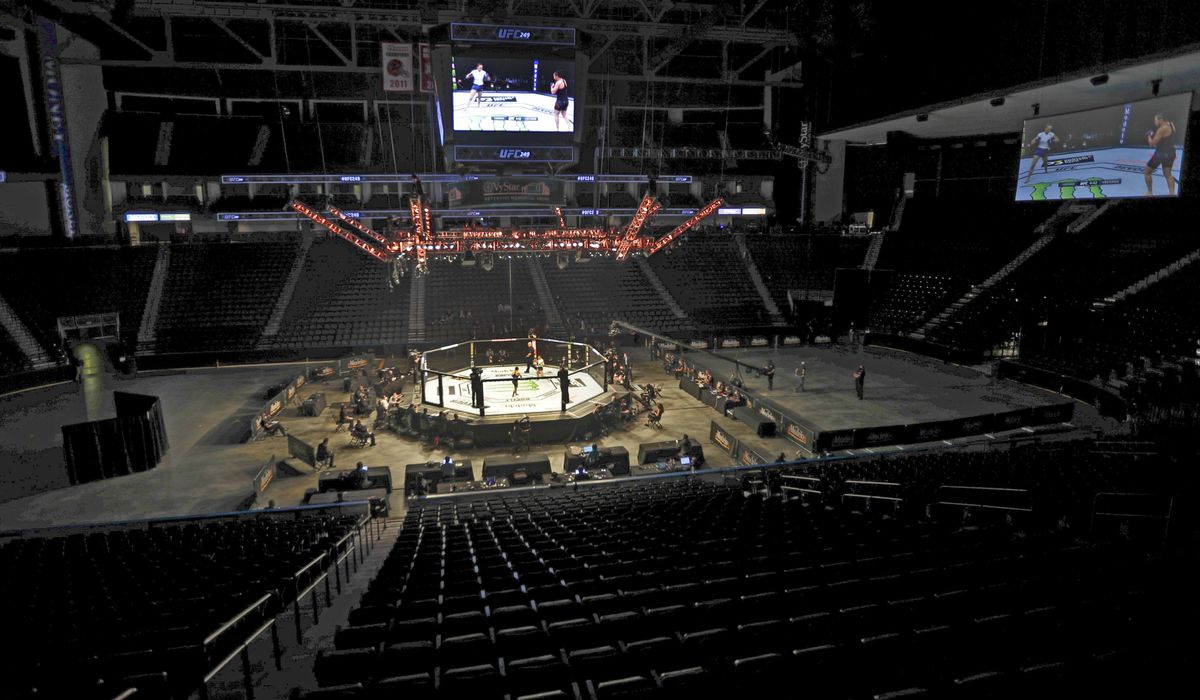 For LGBTQ advocates, Alana McLaughlin's mixed martial arts win last week was a historic transgender-rights moment, but among those raising red flags were some prominent male fighters.
In her MMA debut, the American McLaughlin, who transitioned from male to female in 2016, defeated Celine Provost of France in the Sept. 10 Combate Global prelims in Miami, a bout that has since ignited a furious debate over competitive fairness, as well as the physical dangers for female-born fighters.
Not holding back were stars such as Sean Strickland, who said on Instagram that McLaughlin should "get out of women's MMA, coward," and Jake Shields, who posted photos of McLaughlin looking ripped before and after her transition.
"This is the 'woman' mma fighter they just allowed to beat up a girl in Florida," Shields tweeted. "So brave of 'her' to transition then live 'her' dream of beating up women."
McLaughlin is no giant at 5-foot-7 and 145 pounds — Provost is several inches taller — but other fighters pointed to her muscular frame.
"It's not disrespectful to women, it's dangerous to women. It's dangerous. It's unfair," retired MMA fighter Michael Bisping said on his podcast.
UFC fighter "Sugar" Sean O'Malley said on his Sept. 13 podcast that "I just don't think that's OK," especially when it comes to mixed martial arts.
"It's like she had testosterone for 20-30 years of her life, and now, 'I'm a girl,'" O'Malley said. "Look, you can tell, that's a dude, a jacked girl. Look at her arms."
Meanwhile, McLaughlin, 38, was also throwing jabs on social media, saying she had received "a lot of variations of the same nasty messages calling me a cheater like I didn't just get beat on for a round and a half" and that critics "need to show Celine Provost some respect and take your concern trolling elsewhere."
"She almost finished me more than once, and on scorecards she definitely won that first round," McLaughlin tweeted Sept. 11. "This is the only post I'll make about this. Transphobes are just making my block hand stronger."
On Monday, she tweeted that Instagram had taken down a two-year-old photo captioned "come at me bro" for "inciting violence," while doing nothing about the "thousands of death threats" she had received.
Heres two trans "women" celebrating because they've both beaten up real girls

This is sick and perverse and will only get worse if we sit back as a society and pretend it's okay https://t.co/TsNlnQo1U2

— Jake Shields (@jakeshieldsajj) September 12, 2021
She became the second transgender fighter in the female MMA division, the first being Fallon Fox, who went 6-1 in her 2012-14 career and who watched the Sept. 10 match at cage side, which included McLaughlin's dramatic entrance holding a pink-and-blue flag and wearing an "End Trans Genocide" T-shirt.
"[McLaughlin] was an out and proud transgender woman," said Fox in an interview on Outsports. "It was a pretty amazing thing to see and it was like history."
McLaughlin, 38, ran Division II track in college and joined the Army in 2003, becoming a Special Forces medical sergeant, according to a profile in the [U.K.] Guardian.
In 2016, McLaughlin underwent gender-reassignment surgery, something she had wanted since childhood. A longtime MMA fan, she began training a few months ago, in part to gain strength after being picked on for being small.
"My whole life I was a runt, I was undersized, I was bullied, I was raped, I was beaten, like I did not have an easy time," McLaughlin said. "The story of my life has been trying to physically resist people that were larger and stronger and more skilled than me."
Trans fighter Alana McLaughlin triumphs in historic pro MMA debut https://t.co/Oa39tkFqc9

— LGBTQ Nation (@lgbtqnation) September 14, 2021
Under Florida administrative code, fighters must complete "surgical anatomical changes," including "gonadectomy and surgical changes of external genitalia consistent with gender reassignment," and two years of hormone therapy after surgery, according to the state Department of Business and Professional Regulation.
McLaughlin passed the Florida State Boxing Commission's medical requirements, Combate Global executive Mike Afromowitz told ESPN.
Even so, "it was a nightmare trying to find an opponent," McLaughlin said. "I have nothing but respect for [Provost]."
Bisping said he was supportive of transgender rights and sympathetic to McLaughlin's situation, but that "sometimes you have to give up certain luxuries or certain things that you want to do."
"And I think if you have the body of a man, then unfortunately competing against other girls or women in a sport where you are literally using your body to beat the other person unconscious has to be one of those things that you have to sacrifice," Bisping said on his Sept. 14 podcast.
He drew a distinction between MMA and noncontact sports.
"If you want to go play volleyball, beach ball, rounders, soccer, whatever it may be, great, be my guest," said Bisping. "But a sport where you beat someone into unconsciousness or submission — yeah, that shouldn't be allowed."
Shields said he has received plenty of pushback for his comments, tweeting that he woke up to "Dozens of messages of hate mail," but was nonetheless unrepentant.
"Alana McLaughlin is clearly a real beautiful, brave and talented woman and I wish her well beating up girls in Womens MMA," Shields tweeted.